How Christina Dodd Built Virtue Falls
Ten years ago, my husband and I moved from Houston, Texas — conservative, cosmopolitan, friendly,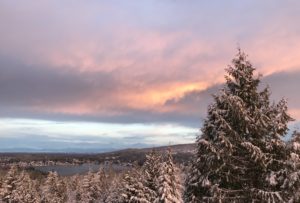 high temperatures — to a small town in NW Washington state — liberal, wild and wooded, peopled with eccentrics. And in winter, there's this white stuff … it falls from the sky … it's cold…
We have five and a half acres on a mountain side. Our view includes the town, a lake, a mountain range and, if we walk to the end of the road, the Pacific Ocean. I literally can see Canada from my front door. We're surrounded by forest, fight herds of deer for the right to let our roses bloom, and our dogs treed a bobcat in the backyard. From the very top of the bookshelves in my office, I have a view of a volcano. (We built me a spot up there to write. Yes, I am spoiled.)
I love Houston, but it is so flat you can stand on a box in the middle of downtown and see for fifty miles in any direction. Here, in this corner of Western Washington, the mountains leap out of Puget Sound and everywhere you look, it is beyond belief gorgeous.
You get it, right? Those two parts of the US could not be more different, and moving here involved some culture shock.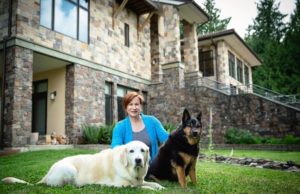 But when you're a writer, dealing with culture shock consists of saying to yourself, "What is going on here, and how can I use this in a book?" It took a challenge from my editor before I could put it together. She said, "Create a town that is in itself a character."
I said, "I'll build Virtue Falls, a small town on the isolated Olympic Peninsula where the investigation of an old unsolved murder raises the specter of a serial killer!"
She said, "Great idea!"
And I said, "I'll start the book with an earthquake!"
To say my editor was dismayed is an understatement. She was horrified.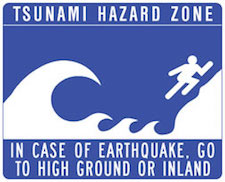 But the first thing my husband and I realized when we moved to Washington was that the scale of possible disasters changed. Not that Houston doesn't have disasters. In the twenty-one years we lived there, we survived a hurricane, a tornado and far too many tropical storms with the resultant flooding. But in Washington, what lurks the breathtaking beauty is the seething possible of major disaster. In 1980, Mt. St. Helens blew its top. In 2001, the largest earthquake in Washington history registered 6.8 on the Richter Scale. When you drive the coastal highway, low areas have tsunami warning signs. We watched with fascination the footage of the Japanese earthquake and resulting tsunami (think deer in the headlights.) I have said to my husband, "If I'm ever in Pike Place Market (in Seattle) and an earthquake occurs, I'm running uphill as fast as I can."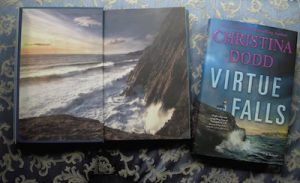 It sounds dramatic, but the Washington population (and on the whole west coast) live with the knowledge earthquakes could happen at any time, tsunamis could quickly follow, and being in the wrong place at the wrong time could be fatal. We don't brood about it (at least, I don't), but we're aware.
After I presented my ideas for the town of Virtue Falls, peopled with eccentrics, tourists and long-buried secrets, my editor agreed an earthquake and tsunami could work, plot-wise, as long as I didn't get too technical. Which is a good thing, because I'm at best an armchair geologist.
You're probably wondering how, after ten years in Washington, we're fitting into this land of grand landscapes where proud eccentrics live off the grid? Turns out we fit in pretty well. One day about six years ago I looked out our bedroom window at our side yard and suggested we build a stone circle. And…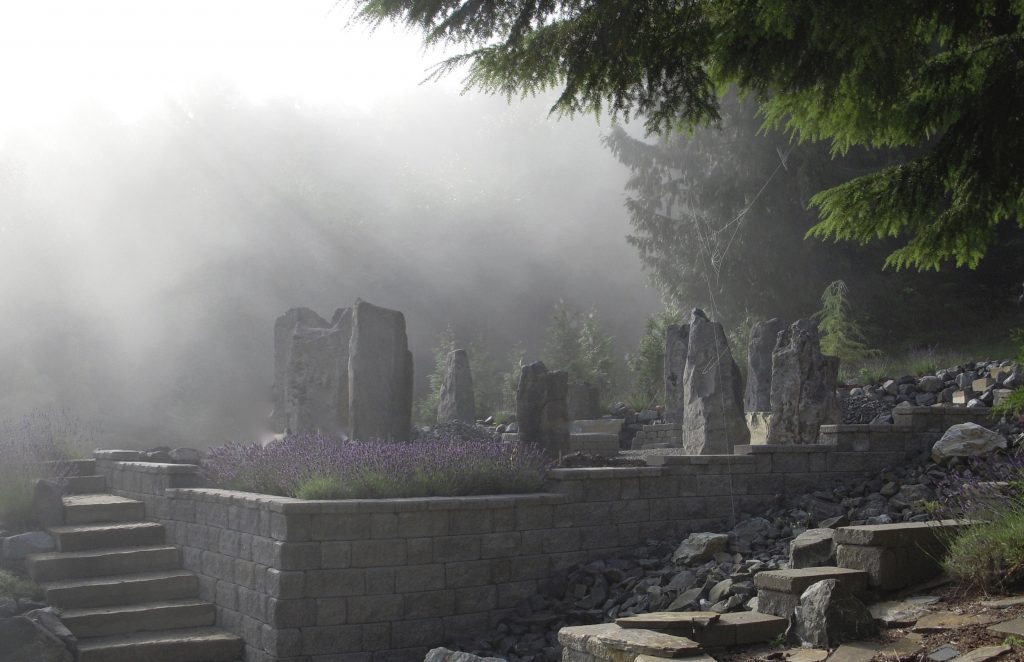 The Virtue Falls series currently includes:
#1 THE LISTENER: A Virtue Falls short story
#2 VIRTUE FALLS: A Virtue Falls Full-Length Thriller
#3 THE RELATIVES: A Virtue Falls short story
#4 OBSESSION FALLS: A Virtue Falls Full-Length Thriller
#5 LOVE NEVER DIES: A Virtue Falls short story
#6 BECAUSE I'M WATCHING: A Virtue Falls Full-Length Thriller
#7 THE WOMAN WHO COULDN'T SCREAM:A Virtue Falls Full-Length Thriller (Coming 2017)
A DARK AND STORMY NIGHT: A Compilation of the Virtue Falls Short Stories+Virtue Falls Extras