Read it today! A PIRATE'S WIFE FOR ME!
In this newsletter:
— Today my all-new, full-length Governess Brides historical, A PIRATE'S WIFE FOR ME, is out in paperback and for Kindle, Nook, Kobo, iBooks!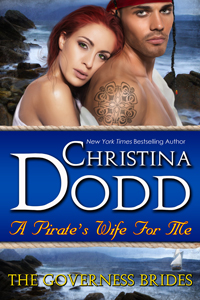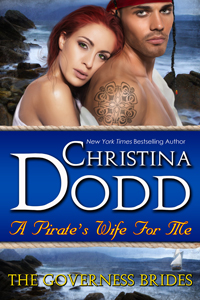 Dear Ones,
I know what you're thinking — what is Christina Dodd doing writing her first pirate historical? It's easy. I write what I like to read — and I like to read over-the-top stories filled with non-stop adventure and hot romance. I want pirates! Let's hear it for swashbuckling pirates who kidnap a woman from her bed and steal her virginity with no notice of what is politically correct! I want guys who can do it all night long without chemical aid. And I want them to be rich! I want men who inspire adjectives like hotly, sardonically, wetly, savagely!
Sure, I like heroines who are duchesses and brain surgeons — but what about the rest of us? I want to read about women who are teachers and secretaries and housekeepers! Especially housekeepers! Especially a housekeeper who starts out to be a spy and by the end of the book wins the life she wants, the man she wants, and the best sex in the history of the world!
So … there you go. A pirate prince, a proud Scottish beauty, a dangerous mission…and a second chance for love: that's what you're going to get with A PIRATE'S WIFE FOR ME. Enjoy at your own risk, and don't say I didn't warn you! Order now in paperback and for Kindle, Nook, Kobo, iBooks!
As always, feel free to forward this email. Although you probably should only send to like-minded readers. I know it's hard to believe, but some people don't agree with us and they will get cranky. 😉
If after you read A PIRATE'S WIFE FOR ME you feel the urge to post a quick review (or a detailed review) on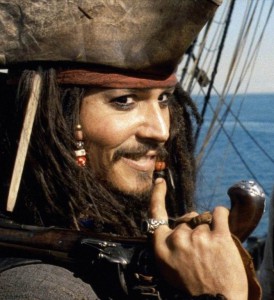 Amazon, Barnes & Noble or GoodReads, I would truly appreciate it. If you have no time, I understand that, too. It's a busy world and we are all pedaling as fast as we can. Thank you for being one of my readers!

Warmly,
New York Times Bestselling author Christina Dodd
Want more Governess Brides? Here is the list and the links:
The Governess Brides Newsletter
(THAT SCANDALOUS EVENING  RULES OF SURRENDER, RULES OF ENGAGMENT and RULES OF ATTRACTION are once again in ebook! All are available in paperback!)

"The beatings will continue until morale improves."