Christina Dodd and the 700 Lavender Plants
I have a shocking confession: My husband and I grow about 700 lavender plants in five different species.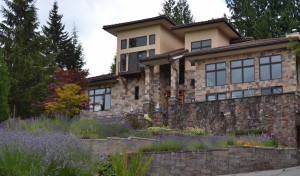 Why? you ask. Or maybe you shouted, Why?
Well. We moved from Houston Texas to Washington state to live on five and a half acres close to the coast and the Canadian border. We built our dream home on a forested hill and when we moved in, we had no front door, no driveway, no front walk, and the yard looked like Mordor.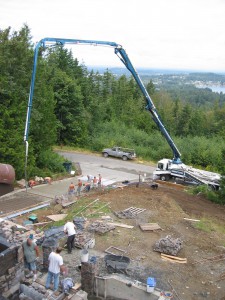 We knew we didn't want to care for acres of lawn, so we went looking for a perennial that would be easy care and environmentally responsible. We settled on lavender, a tough plant that doesn't need watering or fertilizing. Bees love it. Deer don't. That sounded good to us.
So without knowing anything else, we started planting lavender. In the first three years, we may have gotten carried away — we probably planted 500 plants. We then discovered if you don't trim the lavender before winter, certain species reproduce from seed and in the spring you'll have volunteers. That's how we ended up with 700 plants.
In late July, our yard is purple, fragrant, and it buzzes.
What do we do with all that lavender?
With most of it — nothing. Cutting all the lavender would take one man (my husband) five to seven days, and with five and a half acres, he's always busy. You probably know he created our stone circle…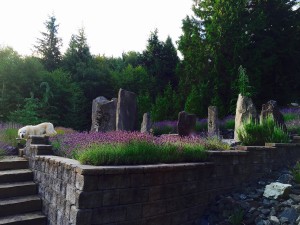 Last year he poured this patio…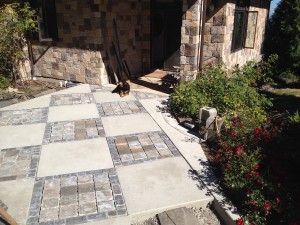 …Right now he's working on another patio with a fountain! The man will tackle anything.
While the lavender is in bloom, he cuts bouquets (he uses a hand scythe) and gives them away to anyone who will take them. Next he cuts bundles of lavender and loads them into the tractor and hauls them up to the garage.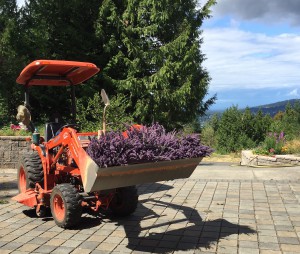 There he hangs them in our garage to dry using the professional method of bent hangers on wooden slats placed over bicycle racks. Okay, maybe it's not really professional, but it works and we had all the materials.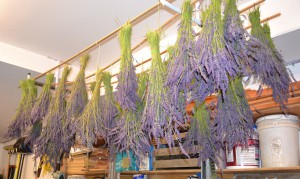 (Interesting fact we discovered — lavender discourages rodents and other pests. No wonder medieval people valued it so much!) When the stems are dry, he shakes them out and harvests the buds. The red bowl contains about one dry batch … the bowl is our popcorn bowl and huge.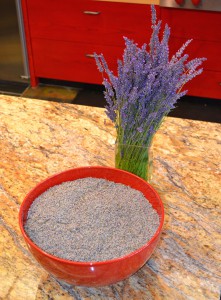 He stores the buds. We put them in decorative boxes as gifts. He makes "BECAUSE I'M WATCHING" sachets for readers who come to my booksignings, to leave with booksellers to give away, and as a lagniappe to contest winners. I admit, I get fiendish delight thinking of my readers putting a sachet in their lingerie drawers that says, "BECAUSE I'M WATCHING."
You can find out more about the building of the stone circle here.
You can find my printable book list here.
Here is my "Books by Series and in Order."
Join my mailing list.
See a video of the stone circle surrounded by lavender and listen to the bees humming, take a video tour of my office, and  listen while I answer reader questions.