Amanda Quick's TIGHTROPE
Description
I know what you're thinking.Humph! Amanda Quick is Jayne Ann Krentz and JAK is Christina's friend. That's true, but! Not only was I a fan long before I met Jayne — this recommendation comes from The Husband. Yes, The Husband, the guy who builds stone circles and treehouses, and grows lavender for the sachets I give away at autographings.
One morning two years ago, I came out to eat breakfast and read the first of the Burning Cove series, THE GIRL WHO KNEW TOO MUCH, which was waiting for me on the kitchen table. Instead, I found The Husband, eating his cereal, buried in the story and thoroughly enjoying himself. I couldn't wrestle the book away from him until he'd finished, then he urged me to read it quickly because he wanted to discuss it. He told everyone about the book. He even posted on his Facebook page!
The same thing happened with the second Burning Cove, THE OTHER LADY VANISHES.
So for TIGHTROPE, I begged Jayne for an advanced reading copy, and The Husband piranahaed his way through the third Burning Cove historical thriller. What can I tell you? He loves good suspense. So do I. So do you.
Now enjoy an excerpt of Amanda Quick's TIGHTROPE, available online and at your favorite independent bookstore!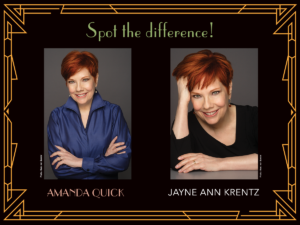 Excerpt
"You could always tell people that, while visiting my pal, Luther Pell, I fell for you and that I moved into the inn in order to get closer to you," Matthias said.
Amalie winced. "Forget it. That will never fly. Let's stick with the first version. In the spirit of neighborly concern Pell suggested that one of his business associates move into the inn in order to provide security. People will have their doubts but they will certainly understand that the new owner of the inn is nervous."
"You prefer your version?" Matthias asked.
"It's just a tad more believable, and it has one huge advantage over the other version."
Matthias studied her with unconcealed curiosity. "What's the advantage?"
"It's the truth," Amalie said. "We don't have to pretend that you moved in because you developed a sudden romantic interest in me. I don't need that kind of gossip going around Burning Cove."
Matthias's eyes narrowed a little. "Exactly what kind of gossip are you talking about?"
"Do I have to spell it out?"
"Yes," he said. "I think so."
"Fine," she said. She waved her hands. "I don't want people thinking that I'm a…a gun moll."
"I believe that term is used only in the movies."
"So? Everyone goes to the movies. That's the term they know."