In its first month of release, THE WOMAN WHO COULDN'T SCREAM has over 100 Amazon reviews and 4.7 stars, with some wonderful quotes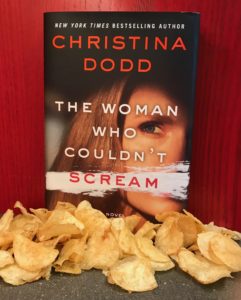 like, "Reading a chapter of a Christina Dodd book is like trying to eat just one potato chip…"
Barnes and Noble has 45 reviews and 4.8 stars.
Goodreads has 141 5-star reviews and includes the classically funny review that starts, ""Noooo!" I screamed. "I finished it, I finished it!" In one day. I couldn't put down, "The Woman Who Couldn't Scream (Virtue Falls #4)." Now it starts over again. The LONG WAIT until the next Virtue Falls book is written. … Holy schmoles, what a terrific series! Wonderful plots, fabulous characters, hot sex—wait did I really say that—and a setting I want to move to…"
Thank you so much for taking your time to tell your friends about THE WOMAN WHO COULDN'T SCREAM or to write a review or to just take a moment to relax in Virtue Falls.
Want more Virtue Falls? Here's the series page featuring all full-length thrillers and quirky short stories; hover your pointer over each cover to get the position in the series, click on each cover to read an excerpt.
Want a "Books by Series and in Order" page? It's here.
Want the printable booklist sorted by genre/series/in order? It's here.