If you're a suspense reader, here's the Booklist 20 Best Romantic Suspense Novels! Kiss Me or Kill Me includes authors I know—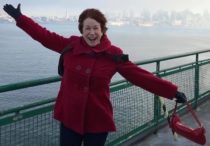 Karen Robards, Jayne Ann Krentz, Karen Rose, Catherine Coulter, Nora Roberts and (ahem) Christina Dodd's VIRTUE FALLS—but I found some new names and titles. I love these lists and can't wait to dig in!
The Kiss Me or Kill Me entry for VIRTUE FALLS says:
After growing up believing that her father was responsible for murdering her mother 20 years earlier, Elizabeth returns home to Virtue Falls in search of the truth only to find she has put herself in the sights of the real killer. Over the course of her long and impressive literary career, RITA Award-winning Dodd has written historical, contemporary, and paranormal romances but now focuses on edgy and sexy suspense stories.
 Read a VIRTUE FALLS excerpt or buy a copy:
My printable book list sorted by genre/series/in order. 
 My Books by Series list. 
Join my mailing list for book news, contests and intriguing personal glimpses of the writer's life.