A DARK AND STORMY NIGHT is out for Kindle, Nook, Kobo, Apple Books and includes the three previously published Virtue Falls short stories:
THE LISTENER: Misfit and computer security expert Cornelia Markum hacks into a text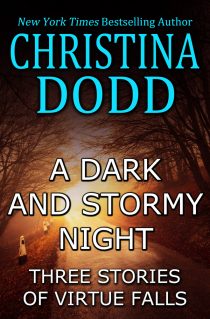 conversation between unidentified Virtue Falls residents … and realizes she's stumbled into a murder plot.
THE RELATIVES: When relatives invite themselves to visit a wealthy couple's Virtue Falls home, events take an unexpectedly dark—and fatal—turn.
LOVE NEVER DIES: A murder committed. A love lost. A ghost haunted by his past. Only one woman can right all the wrongs… If she can survive the night…
These Virtue Falls short stories are available for purchase as singles. 
A DARK AND STORMY NIGHT also includes the alternate conclusion of acclaimed action-filled adventure OBSESSION FALLS, Readers' Guides and excerpts from the newest Virtue Falls thrillers, BECAUSE I'M WATCHING (out now) and THE WOMAN WHO COULDN'T SCREAM (out September 2017,) and previously unpublished extras from the full-length suspense VIRTUE FALLS. You can find the alternate conclusion and the Readers' Guides on this website. The chapters are new.
You can buy A DARK AND STORMY NIGHT in ebook (even with the extras it's too short for paper.) Kindle, Nook, Kobo, Apple Books