Order autographed copies of WHAT DOESN'T KILL HER (and other titles) from Bob's Beach Books for you and as gifts. Call (541) 994-4467 and tell the lovely people which books you want, and they'll ship it to you at once! Or if you're lucky enough to be visiting the Oregon Coast, stop by their store. Bob's Beach Books is on 1735 NW U.S. 101 in Lincoln City and it is such a fun place to browse for your vacation reading!
If you live in California, on my recent trips I autographed various titles at Barnes and Nobles in:
Roseville
San Jose
Corte Madera
and the historic Santa Rosa store.
Stop by and grab your copies!
I dropped into the *enormous* Powell's Books/Burnside in Portland and autographed WHAT DOESN'T KILL HER and both sizes of DEAD GIRL RUNNING. The trade paperback (larger size) is easy to read, and the smaller size includes the bonus short story, HARD TO KILL.) They're in the mystery/thriller section.
"The banter between mother and daughter is hilariously funny as they journey through this adventure…"— Crime Spree Magazine about WHAT DOESN'T KILL HER.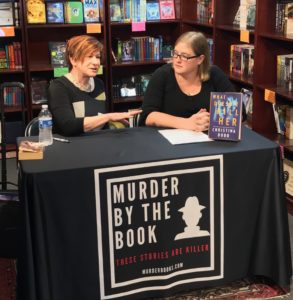 While I was in Houston, I signed copies at Murder by the Book and left them for you. If you'd like a signed copy in hardcover or trade paperback (large size), contact Murder by the Book (they ship!) at 713-524-8597 or at the MBTB website. Do it soon, before they run out!
If you'd like to see a video of the Murder by the Book autographing (the questions from the audience were a riot!), we did a Facebook live. View it here.
Get the news delivered to your email box!
Downloadable booklist sorted by genre, series and in order
Books by Series
What doesn't kill her…had better start running.
Sleeping Beauty was such a sucker.
You can say stuff in her defense. She was young and unwary. She didn't know much about wicked men and cruel women. No one warned her not to touch sharp objects. But ultimately, everything that happened: the whole kingdom taking a hundred year nap, her prince having to hack back thorns and fight a dragon, him having to run up a gazillion stairs, wheezing and gasping, to revive her with true love's kiss — that was all her fault. Everything melts down around her and all she does is lie there, snoozing away.
As I said, a sucker.
Why am I bringing up corny, politically incorrect, completely unfeminist Sleeping Beauty?… WHAT DOESN'T KILL HER, Get your copy now!