WHAT DOESN'T KILL HER Fun Celebrations!
On Friday, Feb. 15, I'll drop by Bob's Beach Books in Lincoln City on the beautiful Oregon coast between 10:30 and 11:00 to autograph my new thriller, WHAT DOESN'T KILL HER. If you're in the area, do drop by to meet me and get a book signed especially for you.
Bob's Beach Books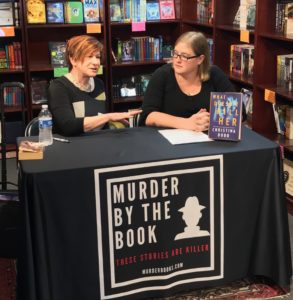 1735 NW U.S. 101
Lincoln City, OR 97367
(541) 994-4467
Please, help out the bookstore who is kindly hosting me. If you want to bring a book from home to be signed, one book only, and make a purchase from the store!
Can't make it to the Oregon coast? Want your very own autographed copy of WHAT DOESN'T KILL HER? Want to give it as a gift?  I signed copies at Murder by the Book and left them for you. If you'd like a signed copy in hardcover or trade paperback (large size), contact Murder by the Book (they ship!) at 713-524-8597 or at the MBTB website. Do it soon, before they run out!
If you'd like to see a video of the Murder by the Book autographing (the questions from the audience were a riot!), we did a Facebook live. View it here.
Get the news delivered to your email box!
Downloadable booklist sorted by genre, series and in order
Books by Series
What doesn't kill her…had better start running.
Sleeping Beauty was such a sucker.
You can say stuff in her defense. She was young and unwary. She didn't know much about wicked men and cruel women. No one warned her not to touch sharp objects. But ultimately, everything that happened: the whole kingdom taking a hundred year nap, her prince having to hack back thorns and fight a dragon, him having to run up a gazillion stairs, wheezing and gasping, to revive her with true love's kiss — that was all her fault. Everything melts down around her and all she does is lie there, snoozing away.
As I said, a sucker.
Why am I bringing up corny, politically incorrect, completely unfeminist Sleeping Beauty?… WHAT DOESN'T KILL HER, Get your copy now!