Book sale! DEAD GIRL RUNNING $2.99!
I have three confessions: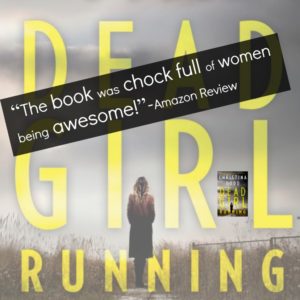 1. I've got the scar of a gunshot on my forehead.
2. Amnesia erased a year of my life.
3. My name is Kellen Adams…and that's half a lie.
If you haven't already begun reading the all-star Cape Charade series, this is a great time to start because book #1, DEAD GIRL RUNNING is briefly on sale in eBook for $2.99! Hurry. Go forth and buy!
eBook:
Do you read only paper? That's great, too; as a bonus, the mass market (pocket-sized) paperbacks include HARD TO KILL, the first short story of the Cape Charade series, and is discounted at BarnesandNoble.com and Amazon.
Paper:
Do you already own your copy of DEAD GIRL RUNNING? Why not let your reading friends know about this great sale? As one reviewer said, "This book is chock full of women being awesome!"
Free! Listen to a DEAD GIRL RUNNING audio chapter.
Audio:
Read the all-star Cape Charade series:

Cape Charade
Short Story

Cape Charade
Full Length
Suspense

Cape Charade
Short Story

Cape Charade
Full Length Suspense

Cape Charade
Short Story

Cape Charade novellas
in audio

Cape Charade
Full Length
Suspense