Christina Dodd's RULES OF ATTRACTION published in audiobook!
     The bedroom door slammed open and Dougald stomped back in. "Where have you been? You're dressed up. I haven't seen you so dressed up. Not since you've been here." His fists clenched. "If you were out with that little pudknocker Seaton—"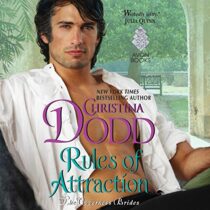 "It would be none of your business." Was he jealous? How lovely.

     "It bloody well is my business where you go and what you do."

     Hannah jutted out her chin. "Why?"

     "You're my wife."

     Indignation came boiling up from her frustrated self. "When? Nine years ago? Not today. Not now." She stepped forward and glared at him, the egotistical pompous cad who thought to control her money and her fate.

    He swept her into his arms.

     She grabbed his hair and brought his lips down to hers.

     They kissed in a whirlwind of passion and anger. Damn him! To treat her so insolently… yet he wanted her, for his arms crushed her to him, his hands searched through the layers of her skirts to find her thighs and lift them around him.

     And she … she wrapped her legs around his waist, pressed her bodice against his waistcoat, kissed him with her tongue thrusting against his.

     He tore his mouth from hers. "You dreadful tease."

     "Not me." She bit his lower lip. "I don't tease. This isn't teasing."

     "Not now." He tumbled her onto her back on her narrow bed, his hips between her legs. "But since you've been here. Every day. Prancing around the castle. Up the stairs. Down the corridors."

     "I did not prance, sir." She ran her fingers through his hair and decided he should never cut it. "I am not a horse!"

     "Talking so that, while I work in my office, I strained to hear you speak."

     "Is it your command that I not speak?"

     "Dressing provocatively."

     "Provocatively!" She squinted down at the chestnut gown.

     Climbing to his knees, he wrestled her skirt and petticoats to her waist, and like a magistrate proving guilt, he pointed at her ankles. "Look at this. Lace on your pantalettes!"

     "I never showed you." She kicked her leather slippers off.

     "I knew about the lace. I sensed it was there."

     "I cannot help if you have developed clairvoyant abilities."

     "Only where you're concerned." He rolled her pantalettes down. "Only about you." — RULES OF ATTRACTION, #4 in The Governess Brides series, is now out published by Brilliance Audio.

"Wickedly witty," — Julia Quinn, author of Bridgerton

Listen to an audio sample, then buy your audio copy:

Or get it in eBook:

Audio book page; a complete viewing of all Christina Dodd books currently published in audio.

Read an interview with audiobook voice talent Khristine Hvam!

Updated Printable book list sorted by genre/series/in order.

Books by Series list with clickable covers.