For the first time, LOST IN YOUR ARMS in Audiobook!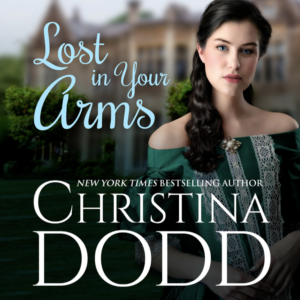 "Who are you?" MacLean asked.
            The female stared at him as if weighing his strength.
            How dared she even consider that she had the right to make decisions about his well-being? He, who was the … who was he? Spacing the words like slow, measured threat, he said, "You will tell me who you are at once."
           With a scornful smile and a toss of her pretty head, she announced, "I am your wife."
            Never taking his gaze off the woman, MacLean ignored the pain in his body and lifted himself onto his elbows. "Liar."
            Her eyebrows rose. Her mouth opened slightly. She stared at him, then threw back her head and burst into laughter.
           If he could have stood, he would have strangled her.
           But she stopped laughing almost at once. "I've imagined this scene many a time, but I never imagined that response." Drawing nearer in a slow, cautious pace, she asked, "Why do you think I'm a liar?"
            "I don't remember you."
            "You claim you don't remember anything at all."
           This woman, this female, this liar did not believe his assertion that he had lost his memory. No one ever doubted his word, because … he didn't why, but he knew he was the pillar of honesty and integrity. He was.
            White with fury, he demanded, "You dare … doubt me?"
           "So we're even."
            His gaze measured her from top to toe. She wore a dark green gown almost military in its severity and buttoned up to the neck. Her waist was trim, and if her petticoats hid the curve of her hips, well, he had an imagination and he used it now. A fine-looking woman. But his wife? Not likely. His wife, if he looked her over with carnal attention, would damned well respond with a smile and a flutter of sooty eyelashes.
            He sank back on the pillows. Married. No. Not to her.
            Without a qualm, he said, "You're not my wife. No man would forget making love to you."
            She didn't blush or stir, and her voice contained all the chill of the wind off the North Sea. "Apparently you have."— LOST IN YOUR ARMS  out for the first time in Audiobook!

"Wickedly witty," — Julia Quinn, author of Bridgerton

Listen to the first chapter performed by the talented voice actress, Karen Cass!

Digital Audio

eBooks

The Governess Brides Series in order:

LOST IN YOUR ARMS is available in ebook with the original cover, but due to the printing crisis, isn't currently available in paper.

Audio book page; a complete viewing of all Christina Dodd books currently published in audio.

Want to follow the fascinating process of re-designing the IN MY WILDEST DREAMS cover? Read!

Read an interview with audiobook voice talent Khristine Hvam!

If you're not already a newsletter friend, what are you waiting for? I'd love to welcome you as a newsletter friend. You'll enjoy book updates, book sales, surveys, and humorous insights to the writing life. Join!