I hope you enjoy HARD TO KILL, the introductory Kellen Adams short story adventure, out today for Kindle, Nook, GooglePlay, Kobo, and Apple Books. Here's a brief excerpt: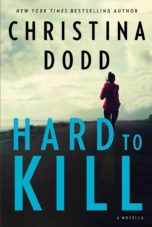 "What about you?" Hackett asked. "What are you going to do when you get out?"
"I'm in for the long haul," Kellen replied. "I'm career military."
"But you're pretty!"
She looked at him sideways.
"I mean… not that you're not a damned good soldier…" He glanced around wildly, looking for an escape, stiffened, pointed and yelled, "Watch out!" 
Many of my newsletter readers found HARD TO KILL free as a bonus read in the paper edition DEAD GIRL RUNNING. Join my mailing list and you'll always be up-to-date with this kind of great news!
Want to read HARD TO KILL and don't have an eReader? Easy-peasy. Download a free app like Kobo, Apple Books for iOS, Kindle for Mac or Kindle for PC, and read on your phone, tablet or computer.
Happy reading!