Date: January 3
Time: 4pm ET, 1pm PT
Where: Christina's Facebook page You can sign up here or just show up!
Occasion: Christina Dodd chats with New York Times bestseller Jayne Ann Krentz about her brand-new romantic suspense, SLEEP NO MORE.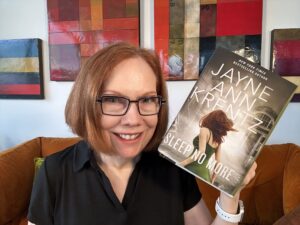 New York Times bestselling author Jayne Ann Krentz returns with the first novel of the Lost Night Files, an exciting new romantic suspense trilogy about a night that changed three women forever—but that none of them can remember. 
Seven months ago, Pallas Llewellyn, Talia March, and Amelia Rivers were strangers, until their fateful stay at the Lucent Springs Hotel. An earthquake and a fire partially destroyed the hotel, but the women have no memory of their time there. Now close friends, the three women co-host a podcast called the Lost Night Files, where they investigate cold cases and hope to connect with others who may have had a similar experience to theirs—an experience that has somehow enhanced the psychic abilities already present in each woman.
Pre-order SLEEP NO MORE now!
Can't be there at the date and time? We'll record the interview for you! Join my mailing list for a link to the chat.
When Jayne and Christina get together, these two friends share laughs, information and gossip with you. Want a preview? In a previous interview, watch Christina surprise Jayne with an unexpected visitor!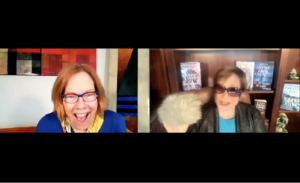 How Many Of My Characters Have Traits Or Personalities Of Real People I Know