Event: Announcing the return of the Jayne Ann Krentz/Jayne Castle dust bunnies!
Date: Thursday, November 18
Time: 1pm PT/4pm ET
Place: Christina Dodd's Facebook page (you don't have to be a member of Facebook to enjoy this interview!)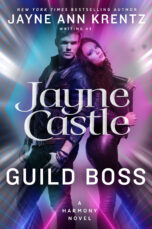 "Like Las Vegas on Earth, but way more weird,"
It has been too many years since Jayne Castle (who looks remarkably like Jayne Ann Krentz and also like Amanda Quick) has written an installment in her beloved Harmony series. Now, amid much rejoicing, GUILD BOSS will be published November 16 and I'll interview Jayne Ann Krentz about her stories, how she writes, and of course, about the dust bunnies, who they are, why we love them. Join us on Thursday, November 19 at 1pm PT/4pm ET on my Facebook page. Bring your questions! … If you're unavailable, the interview will be recorded and available to view later.
Read more about GUILD BOSS on Jayne's website!
Christina Dodd downloadable/printable book list sorted by genre/series/in order.
Christina Dodd Books by Series. Click covers to read excepts, listen to audiobook chapters and find buy links.
Put more fun in your life Join Christina's mailing list!