Jumping Jehoshaphat, Rose was nude! Not a stitch on! Bare-beamed and buck-naked! In the open, in full daylight, without a shred of self-consciousness or guilt.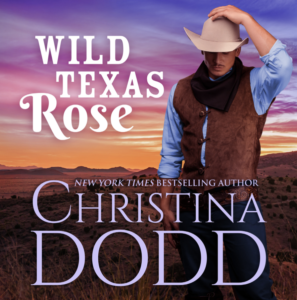 Thorn gulped. What a woman. What . . . a . . . woman.
Was that a rifle she was holding?
Oh God, it was.
She had her Winchester, and her hands were mighty steady. And she'd called him a bastard — the first curse word he'd ever heard her use. Deep in his gut, he had the ugly suspicion she would, without remorse, shoot him through the heart.
He'd better think fast.
But she was naked!…
WILD TEXAS ROSE, a Christina Dodd novella, is available for the first time in audiobook, and also available in ebook. Read an excerpt and listen to an audioclip here.
Christina Dodd downloadable/printable book list sorted by genre/series/in order.
Christina Dodd Books by Series. Click covers to read excepts, listen to audiobook chapters and find buy links.
Put more fun in your life Join Christina's mailing list!