MY FAVORITE BRIDE now out in audiobook!
For the first time ever, MY FAVORITE BRIDE (Governess Brides) is out in audiobook, narrated by voice talent Karen Cass!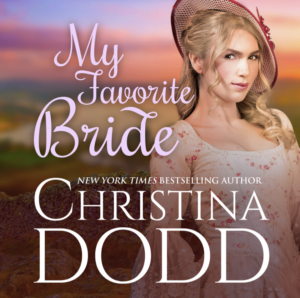 "The Sound of Music meets Jane Eyre." — Publisher's Weekly
Digital Audio
When Miss Samantha Prendregast arrives at Devil's Fell to take charge of six rebellious girls, the outspoken governess finds she can manage the children with intelligence, guile … and a little bribery. Their dashing, widowed father, Colonel William Gregory, is not so easily charmed—and far too easy to love.
William cherished the orderliness of his life, until this captivating troublemaker distracts him with wit and defiance. Despite the fact that they clash at every meeting, William finds himself drawn to Samantha's fire. Before he can successfully woo her, William must discover what she's hiding. But the secret the lady is guarding is far too dangerous to ever reveal …

How was this new cover created? Here are the designer's notes:
BACKGROUND INSPIRATION: A playful smile paired with an arched brow lets viewers immediately know that Samantha, the heroine of this story, has a mind as sharp as her tongue. Her mysterious gaze hints towards her sordid past, her stylish outfit reveals her London sensibilities, and her confident expression and sassy stance show that she's ready to take on 6 rebellious little girls as well as their stern military father.
DESIGN APPROACH: A modern approach to a classic style, this cover will appeal to both young and old fans of historical romance.
CREATIVE DIRECTION: In the background, the placid lakes and hills of England's Lake District are a sharp contrast to the hustle and bustle of London that Samantha is used to. The dusky and romantic landscape belies dangerous secrets, but Samantha's strength, glittering intelligence and arresting gaze captures the viewer interest.
OVERALL IMPACT: Romantic, Sassy, Sensuous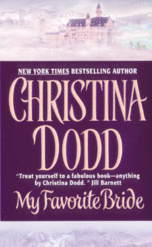 MY FAVORITE BRIDE is also available in paper and eBook with the original cover!
Paper
 

eBook

Audio book page; a complete viewing of all Christina Dodd books currently published in audio.

Want to follow the fascinating process of re-designing the IN MY WILDEST DREAMS cover? Read!

Read an interview with audiobook voice talent Khristine Hvam!

If you're not already a newsletter friend, what are you waiting for? I'd love to welcome you. You'll enjoy book updates, book sales, surveys, and humorous insights to the writing life. Join!

Christina Dodd downloadable/printable book list sorted by genre/series/in order.

Christina Dodd Books by Series. Click covers to read excepts, listen to audiobook chapters and find buy links.