The award-winning, New York Times bestselling Lost Hearts romantic suspense series has been repackaged in e-book with beautiful new covers and exciting bonus content!
"Mystery and misery scar their young lives. Three sisters and their foster brother are torn apart by tragedy and scattered across the country to grow up apart…while searching desperately for the chance to reunite."
The series, in order, includes:
1  JUST THE WAY YOU ARE
2 ALMOST LIKE BEING IN LOVE 
3. CLOSE TO YOU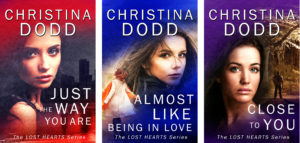 For Gabriel's story, read the Fortune Hunters series and GABRIEL'S GIFT: a Lost Hearts Christmas epilogue.
My printable book list sorted by genre/series/in order. 
 My Books by Series list. 
Join my mailing list for book news, contests and intriguing personal glimpses of the writer's life.