Would you like a personally autographed copy of POINT LAST SEEN? The Poisoned Pen Bookshop in Scottsdale AZ is handling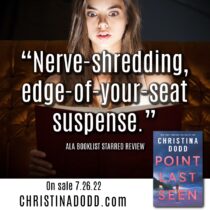 the book signing for you. Order a copy of POINT LAST SEEN in trade paperback or hardcover, the books will ship to me, I'll sign them exactly as you wish and ship them to Poisoned Pen, and they'll mail them to you. This store is so brilliant and organized that wherever you are in the world, if you're in need of a mystery/suspense bookstore, I can wholeheartedly recommend The Poisoned Pen Bookshop!
You can also order from your favorite local bookshop and online. Here's all the information you need!
Want to add POINT LAST SEEN to your Goodreads To-Read List? Here's the link!
If you're not already a newsletter friend, what are you waiting for? I'd love to welcome you. You'll enjoy book updates, book sales, surveys, and humorous insights to the writing life. Join!