Kerrich stood behind her, so close Pamela could smell the fresh, rain-wash scent of his body and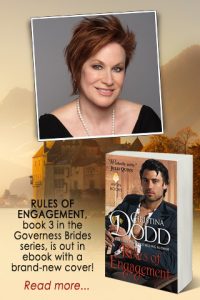 catch occasional hints of enveloping warmth. Using one hand to fend him off, she said, "You're a rake. You're proud of it."
"Yes, I like women."
"Too many women."
"How many is too many?"
"More than one." Daringly, she said what she'd always thought. "If a man was meant to have more than one lover, he would have more than one organ."
He burst into laughter, a whole-hearted, generous laughter. "At a time," he said. "One woman at a time." — Buy RULES OF ENGAGEMENT with its "handsome" new cover for Kindle, Nook, Kobo, Apple Books, GooglePlay. And in paperback at Amazon, Barnes and Noble, Indiebound, Books-a-Million or your favorite local bookstore.