SCENT OF DARKNESS out in Audiobook!
"I hated this book because it is all about sex, sex, sex. The story gets lost in the descriptive sex pages which are numerous."—one-star Amazon review for SCENT OF DARKNESS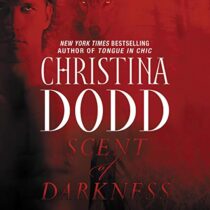 Actually, I'd like to point out that the Darkness Chosen series is a plot rich series dealing with the ultimate battle between good and evil…and I will admit that is my favorite one-star Amazon review ever.

If you'd like to read a paranormal romance series about the ultimate battle for good and evil, or maybe books full of sex, sex, sex, SCENT OF DARKNESS is now out in audiobook!

Digital Audio

In fact, the whole Darkness Chosen series is publishing in audiobook. Watch for:

INTO THE SHADOW  3/16

INTO THE FLAME  4/13

"A star in any genre! Christina Dodd writes with power and passion—and always leaves me satisfied!"— J.R. Ward, author of the Black Dagger Brotherhood

SCENT OF DARKNESS is also available in paper and e-book. Read an excerpt and listen free to the first chapter.

Paperback

E-Book

Put more fun in your life Join Christina's mailing list!

Want a "Books by Series and in Order" page? It's here.

Want the printable booklist sorted by genre/series/in order? It's here.