Starred Library Journal Review for OBSESSION FALLS!
• Library Journal, Starred Review! — An impulsive trip back to the isolated Idaho valley where she lived as a young girl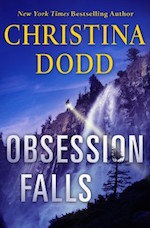 sends high-profile interior designer Taylor Summers fleeing into the rugged Sawtooth Mountains after thwarting the murder of a young boy by distracting his kidnappers. Taylor knows her life is forfeit and if she wants to stay alive, she has only one choice — to disappear. Landing by chance in tiny Virtue Falls more dead than alive, Taylor begins to heal and carve out a new life for herself as Summer Leigh. But the villain is relentless as is the uncle of the little boy she saved. Now it's only a matter of time before danger tracks Summer down and she is caught in a deadly game between a pair of geniuses that she may not survive. VERDICT Stunning description, startling violence, nonstop action and an inventive plot drive this riveting Native American lore-infused page-turner. With a gritty, resourceful heroine, a whip-smart determined hero and an equally dazzling miscreant, this one is impossible to put down. A remarkable, mesmerizing series."

In hardcover for you collectors at Barnes&Noble, Amazon, Books-a-Million & at your local bookseller,
and of course for Kindle, Nook, Kobo, GooglePlay, Apple Books.