STRANGERS SHE KNOWS got a *starred* Booklist review. Booklist is the official magazine of the American Library Association, and this is huge!
Also, if you think I've bragged about this before, you're right. ALL THREE CAPE CHARADE FULL LENGTH BOOKS GOT STARRED REVIEWS!!!
Sorry for shouting. I'm a little excited. A few quotes from the STRANGERS SHE KNOWS review:
"Dodd continues her addictively readable Cape Charade series featuring Kellen Adams with another white-knuckle tale that simply begs to be inhaled in one sitting."
"A fascinating island setting that includes a spooky mansion, a secondary storyline involving World War II, and an antagonist who could give Villanelle from Killing Eve a pointer or two."
"Dodd at her brilliant best." 
Put STRANGERS SHE KNOWS on your Goodreads to-read list!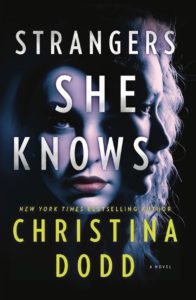 I have three deadly problems:
1. I've seriously offended a maniacal killer.
2. I just had a bullet removed from my brain.
3. My new daughter is growing up too fast—and she's in the line of fire.
STRANGERS SHE KNOWS is a Cape Charade full-length thriller starring Kellen Adams in hardcover, trade paperback, audio and ebook. Get your copy at your favorite independent bookstore or online!
Trade Paperback
eBook
Audio
Hardcover
Make sure you join my mailing list so I can notify you when my new titles are released!