STRANGERS SHE KNOWS with Reduced eBook Prices!
Now! STRANGERS SHE KNOWS is out in mass market (pocket) paperback with reduced ebook prices!
I have three deadly problems: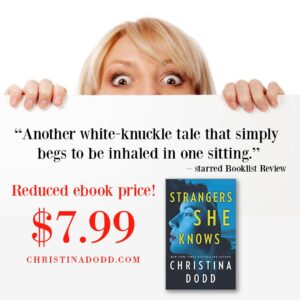 1. I've seriously offended a maniacal killer.
2. I just had a bullet removed from my brain.
3. My new daughter is growing up too fast—and she's in the line of fire.
Paperback:
eBook
Audio
Trade Paperback
Read a STRANGERS SHE KNOWS excerpt.
Join the Christina Dodd mailing list now for book updates and a free short story, THE WATCHER!