The Mysterious Four Rides Again!
Date: Wednesday, May 5
Time: 10am PT/1pm ET
Place: http://www.facebook.com/JayneAnnKrentz
It's my privilege to interview bestselling historical mystery authors Victoria Thompson, Anna Lee Huber and Jayne Ann Krentz about their books, their craft, and their inspirations. Mark your calendar and tune in for an interesting and fun-filled 30 minutes. I promise to try and keep these authors under control. 😁
The event will be recorded and available for you to watch from YouTube and other venues, so keep an eye on this space for details.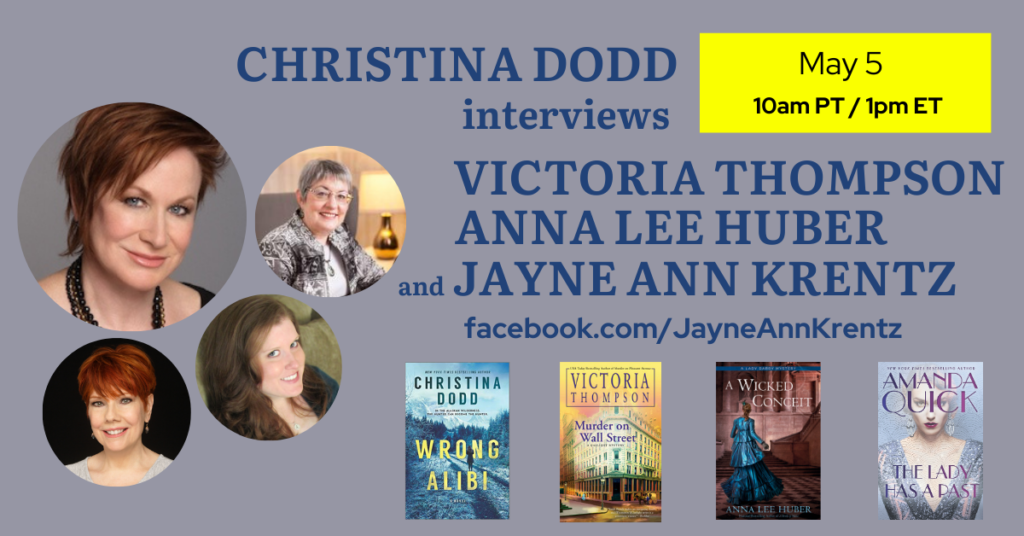 Books featured are:

A WICKED CONCEIT by Anna Lee Huber

THE LADY HAS A PAST by Jayne Ann Krentz

MURDER ON WALL STREET by Victoria Thompson

Christina Dodd's newest contemporary thriller is WRONG ALIBI

I'd love to welcome you as a newsletter friend. You'll enjoy book updates, book sales, surveys, and humorous insights to the writing life. Join!

Christina Dodd downloadable/printable book list sorted by genre/series/in order.

Christina Dodd Books by Series. Click covers to read excepts, listen to audiobook chapters and find buy links.