Today! INTO THE SHADOW in Audiobook!
Glancing up, Karen saw the dust of the massive rock fall shuddering toward her. She tugged on Phil's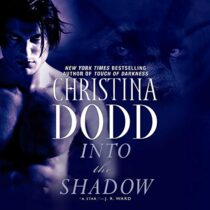 shoulder. "We've got to run!"
He turned, lips drawn back. "Run, then. This gold is mine!"
Shocked by the demon of greed that peered from his red eyes, she jumped back. Heard the noise of tons of stone descending the mountain. Realized that Mt. Anaya had at last decided to crush them and their presumption.
She ran. Ran as hard and as fast as she could away from this place. From the heart of evil.
The ground shuddered. The noise rose, a cacophony of shattering stone and a roar that sounded like … like a motor.
A big, black motorcycle cut in front of her. Stopped. The stranger, the man who'd watched her from above, sat on the seat, his eyes ablaze with urgency.
She slid onto the seat behind him. Grabbed him around the waist.
He hit the accelerator.
They tore across the site, the bike hitting holes and rocks. The front tire danced to a crazy beat. He couldn't control the machine. He was going to kill them. But he stood on the pedals. He skidded, leaned, avoided.
She wanted to scream in fear. Maybe she did. Then a glance behind them made her lean forward, urging him faster.
For the rock fall chased them, fueled by gravity and the mountain's spite. Boulders as big as buildings slammed behind them like a stone giant's footsteps, each one coming closer. Anaya groaned with exertion. Dust rose, obscuring the sky, the site … Phil. Mt. Anaya had once again protected the heart of evil.
Turning her head away, she pressed her face into the leather jacket.
He smelled of cold water, fresh air, and wildness.
She knew that scent. She'd dreamed about it every night.
This was her lover — not a dream, as she hoped, not madness, as she feared, but a man of daring and courage.
Of course. Who else would defy death to rescue her? —INTO THE SHADOW, Darkness Chosen, now out in audiobook

INTO THE SHADOW is also available in paper and e-book. Read an excerpt and listen free to the first chapter.

The Darkness Chosen series is:
SCENT OF DARKNESS — "I hated this book because it is all about sex, sex, sex. The story gets lost in the descriptive sex pages which are numerous."—one-star Amazon review for SCENT OF DARKNESS

INTO THE FLAME  coming in audio 4/13

"A star in any genre! Christina Dodd writes with power and passion—and always leaves me satisfied!"— J.R. Ward, author of the Black Dagger Brotherhood

Put more fun in your life Join Christina's mailing list!

The Christina Dodd audiobook schedule.

Want a "Books by Series and in Order" page? It's here.

Want the printable booklist sorted by genre/series/in order? It's here.