Today! JUST THE WAY YOU ARE on Sale!
JUST THE WAY YOU ARE, Lost Hearts #1, is on e-sale for $2.99!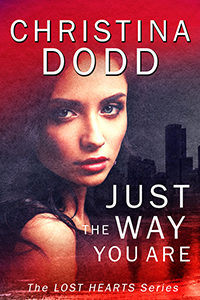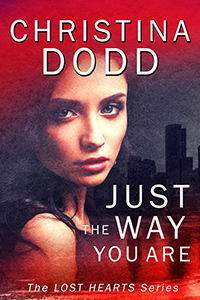 The front doorbell rang. Zack ignored it, sure someone else would get it. After all, someone else always did. But the doorbell rang again, and again, until he remembered he'd sent his butler away. Still, one of the servants should be answering it. At the fourth ring, Zack stood and stalked out of his office. The foyer was empty. No servant lingered there, and so Zack did the unmentionable.

He opened his own front door.

A woman stood there. About five-eight, wrapped in a worn coat and muffler and mittens, she held a sealed plastic container outthrust before her as if she were the neighborhood welcome wagon. The muffler covered her head and wrapped around her neck, leaving only her thin, pale face showing. And what a face. Her cheekbones were high, her chin piquant, her mouth broad, smiling, and sensual. Her eyebrows tilted upward, and her eyes … the largest, bluest, most expressive eyes he'd ever seen in his whole life.

"Yes?" He was hoarse, and he cleared his throat. "What can I do for you?"

"Griswald?" she said uncertainly. "Is that you?"

That voice. Warm, husky, lilting. He recognized that voice.

This was Hope, and with a sudden jolt, he did — hope, for the first time in far too long.

Read the Lost Hearts series:

JUST THE WAY YOU ARE on sale now!

Read how I got the idea for the series here. 

Want a "Books by Series and in Order" page? It's here.

Want the printable booklist sorted by genre/series/in order? It's here.

Put more fun in your life Join Christina's mailing list!