VIRTUE FALLS is out in paperback!
VIRTUE FALLS, winner of the RT Book Reviews award and the July Barnes and Noble Bookseller pick, is at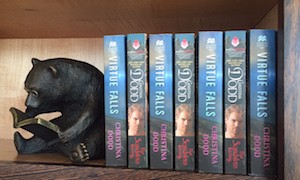 last available in paperback! See why RT said, "Dodd has always been a terrific author, but she kicks it into a whole new realm with this amazing and terrifying novel!"  Talk to your independent bookstore or orderVIRTUE FALLS from Barnes and Noble, Books-a-Million or at Amazon. Reduced eBook price, too. Kindle, Nook, Apple Books, Kobo, and Google Play.