My publisher sent me two covers for FAMILIES AND OTHER ENEMIES, the Cape Charade novella releasing January 1. I ran a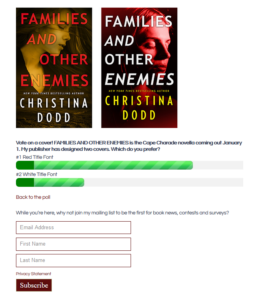 survey on social media, you voted on your favorite, and here are the results:
Over 200 readers voted, and as you can see by the screenshot, cover #1 won by more than double. YAY! And thank you for your input. :whispering: That was my favorite, too. 
More about FAMILIES AND OTHER ENEMIES:
Kellen Adams has fought battles, saved lives, earned the respect of her colleagues and the love of her friends. But now, can she triumph against the greatest challenge of her life — her family?
Preorder: Kindle   Nook   Kobo   GooglePlus   Apple Books
Want to know more Cape Charade, the Kellen Adams series one reviewer called, "Wildly entertaining, wickedly witty?" Read here!
My newsletter friends have some great times coming up: book releases, exclusive contests and of course, news about The Husband's latest massive project. Join us!