At last! I got the cover for my Cape Charade January thriller, WHAT DOESN'T KILL HER! I had no idea how the Art Department was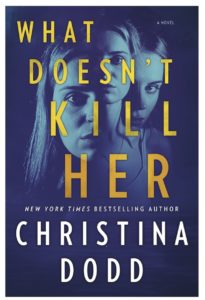 going to portray Kellen Adams, because…well, here. Let me share the copy:
One secret, one nightmare, one lie. You guess which is which.
— I have the scar of a gunshot on my forehead.
— I have willfully misrepresented my identity to the U. S. military.
— I'm the new mother of a seven-year-old girl.
Kellen Adams suffers from a year-long gap in her memory. A bullet to the brain will cause that. But she's discovering the truth, and what she learns changes her life, her confidence, her very self. She finds herself in the wilderness, on the run, unprepared, her enemies unknown—and she is carrying a priceless burden she must protect at all costs. The consequences of failure would break her. And Kellen Adams does not break.
WHAT DOESN'T KILL HER … had better start running.
You see what I mean. There's a lot to work with here, but to make this person come alive visually…whew! I think the artist captured the complex Kellen Adams. If you'd like to read more about the cover, click here. If you'd like to read a WHAT DOESN'T KILL HER excerpt, click here.
WHAT DOESN'T KILL HER, coming on January 29 into your eager hands: hardcover, trade paperback, and ebook.
Hardcover