Now! WHAT DOESN'T KILL HER is out in mass market (pocket) paperback with a new cover (see the video) and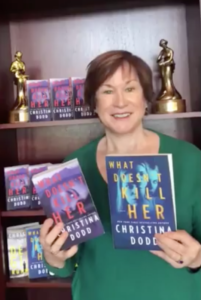 reduced ebook prices. Hurry! Get it and start reading!
And if you bought it in hardcover or trade paperback, start re-reading! We have three more Cape Charade releases in the next four weeks:
THREE SUSPENSE SHORT STORIES IN AUDIO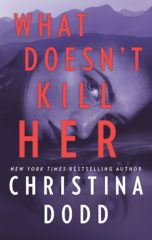 One last thing: When I was writing WHAT DOESN'T KILL HER , I asked on social media what a seven-year-old girl would pack to go on a trip. The answers were hilarious, and every item Rae has in her bag is a reader suggestion. 
"Did you bring extra socks?"
Rae tilted her head and viewed Kellen as if she was crazy.
"Underwear? Clothes? Toothbrush?"
"My Halloween costume!" Rae leaped to her feet. "I'm going as Luna Lovegood!"
That explained the great mop of blond hair in the bag. Rae hadn't scalped someone. She was channeling her inner Harry Potter.
Heh, heh. I love when I'm able to tap into my readers' knowledge and use that to make my books funny and real. Thank you for all your help!
I'd love to have you as a newsletter friend. Join now!
Printable/downloadable booklist (Updated)
Books by Series