WRONG ALIBI Cover Poll Results
A quick explanation: My publisher made three completely different covers for my next book, WRONG ALIBI, coming Dec. 29, so I thought — why not make this fun? We made a poll asking you to vote on your favorite,  The day the newsletter went out (join) saw the biggest number of visits every recorded on my website, and as of this writing, we have 6,965 hits on the poll. That's a lot.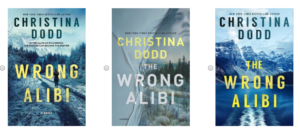 1,922 of you followed the link from the poll page to the WRONG ALIBI book page, where you saw the final cover.
The voting breakdown:
#1 won the popular vote with 47%.
#2 was your least favorite with 19%.
#3 was second with 34%.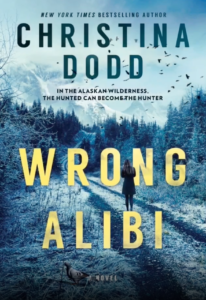 The really good news is — #1 was the cover my publisher chose! On the WRONG ALIBI page, there's a bonus — the cover comes to life with a swirl of birds. I've saved it as a screensaver, and you can too. Just click "Download Video" and enjoy!

A lot of you liked the WRONG ALIBI story description: In the Alaskan wilderness, the hunted can become the hunter.

The survey is still up if you'd like to vote. I've had a grand time reading the comments!

Christina Dodd downloadable/printable book list sorted by genre/series/in order.

Christina Dodd Books by Series.

For more fun surveys, join Christina's mailing list!