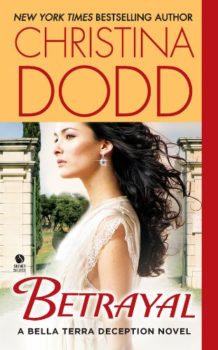 Bella Terra Deception #3
April 3, 2012
Signet (Select)
Available in: Paperback, Audio, e-Book
Betrayal
Only New York Times bestseller Christina Dodd could bring you this series about three brothers, tormented by their pasts…
At nineteen, Noah Di Luca was Bella Terra's golden boy, handsome, confident, and untouched by the shadows that tormented his brothers…or so it seems. Driven by ambition, beautiful teenage Penelope Alonso fought her way out of the ghettos. During one hot summer, they came together in the sweetness of first love…until his past reared its ugly head and Noah walked away.
Nine years later, Penelope returns, never imagining she'd see Noah or that one glance would wake their fiery passion. As peril builds around them, Penelope has one choice: to survive, she must once again trust the man who betrayed her.
Even with terror stalking through Bella Terra's streets, love may be the most dangerous choice of all.
Listen to an audio excerpt:
In BETRAYAL, the third story of suspense and romance set in Bella Terra, Penelope has returned to town after an absence of nine years. She has no choice; if she wants to understand the mystery of her birth, Bella Terra is where she must be. But all those years ago, she suffered heartbreak at the hands of dashing golden boy Noah Di Luca, and she hopes never to see him again…
The front door lock made a clicking sound.
Penelope and Brooke turned to look.
Two men, tall and broad-shouldered, stood silhouetted and unrecognizable through the cut glass.
The knob turned. The double doors swung wide.
Brooke's face lit up, and she cried with rapturous pleasure, "Rafe!"
A distant memory stirred in Penelope's brain, an ominous rumble of trouble.
Rafe? A rare name. A distinctive name. She'd heard it years before…
All day, Brooke had never said her husband's name. Why? What was she hiding?
The men stepped into the foyer, both handsome, dark-haired, obviously brothers.
Brooke looked between them and Penelope, she seemed to realize this was disaster, and she deflated like a balloon. Her whisper sounded loud in the silence. "Oh, no."
The truth, and the horror, struck Penelope through her already-bruised heart.
Brooke's husband had arrived, and he was Rafe Di Luca. And the other guy…
The other guy was Rafe's brother.
He was Noah Di Luca.
Her Noah Di Luca.
Time shifted. Motion froze. Penelope saw the tableau etched with such clarity, each one of them might have been a figure in an artfully-lit wax museum.
Rafe, in a dark suit, white shirt and tie, walking toward his wife, his hands
outstretched, saying, "What's wrong, honey?"
Brooke staring at Penelope in wide-eyed dismay.
Noah, in blue jeans, blue t-shirt and a linen jacket, glancing around as if assessing the house, catching his first glimpse of Penelope.
And the shock of meeting his eyes flung Penelope ten thousand feet up into the atmosphere.
The air was thin; she couldn't breathe. Her ears were plugged; she couldn't hear. All her concentration narrowed down to a single focus; Noah's face, his chin, his lips, his lips, his lips. And his eyes, as deep and as green as the ocean, and just as unfeeling and faithless …
She was cold, frozen; she couldn't move, couldn't feel…
Then, abruptly, he started toward her, and the ice snapped.
She was back with her feet on the heart of palm floor … and she could feel. Her skin was icy, her fingers trembled, and the pressure in her chest made her wish she could sink to the floor in a nineteenth century faint.
She stiffened her spine. She was not a Victorian maiden. She was not a coward. She had faced far worse than this confrontation. She would get through the experience with the courtesy and poise life had taught her.
Noah extended his hand.
Good. It was to be a businesslike meeting.
She extended hers. "Noah, how good to see you again." A lie, but in a good cause.
"Penelope, I had no idea you were in town." His voice wrapped her in the remnants of the old, dark, rich depths of remembered passion. He took her hand.
And Penelope was flung once more into space. Everything was in that one touch: all the joy of first love, all the pain of his rejection, all the years of being apart…
This time Penelope didn't wait for release. She took time by the throat; slammed herself down to earth.
She breathed. She smiled. She made herself look pleasant and normal. She spoke. "I arrived yesterday. I hadn't told anyone I was coming, but Brooke and I met at the diner and we discovered a mutual appreciation for turn of the century architecture."
"You always did love old houses," he said.
She tried to think how a person behaved when meeting another person in business circumstances. She should know this. She did know this.
First, get your hand out of his.
She freed herself.
He let her go.
She rubbed her palm against her jeans, trying to wipe off the sensation of his skin.
She couldn't. He was here, exuding the warmth of the California sun, the scent of bergamot orange clinging close to his skin, the structure of his face as striking as ever, but refined, matured… In nine long years, one marriage and too many devastating losses, she hadn't been able to erase the memory of his touch. Why would she succeed now?
Please join my mailing list so I can notify you when my new titles are released!
back to Top