FAQ
Q. How do I keep up-to-date on book releases, reviews, and other news?
A: The best ways for you to stay current with my book news are:
—My mailing list: I always always always tell you about book sales & new releases and I'm open, friendly, chatty. Read a newsletter if you don't believe me. The sign-up is on every web page. You can unsubscribe at any time and I would never sell your address. You're mine, all mine! BWAHAHA!
—Bookbub: You don't have time for chatty, you simply want a brief notice about new releases. Bookbub always sends.
— Goodreads: Sends a monthly notice, highlights the authors you follow.
— Amazon sends notices about new releases AND reprints…sporadically.
— Because Facebook no longer shows all posts to the readers who follow me, it is, sadly, no longer good for book news.
So join, follow, read, enjoy!
— Christina
Q: What are your newest releases?
My 2019 releases include more of the highly acclaimed Cape Charade:
— FAMILIES AND OTHER ENEMIES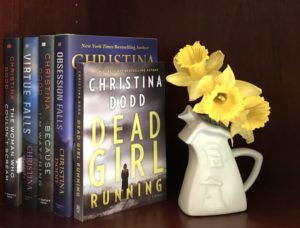 — WHAT DOESN'T KILL HER (had better start running)
— HIDDEN TRUTHS
— STRANGERS SHE KNOWS
Join my mailing list to keep up with every new release!
— Christina
Q. What's the Cape Charade series about?
A: I've waited eight years to write Kellen Adams's story and I want every reader to see with her eyes, struggle with her memories (and lack of them), and live in her action scenes. Her experiences with marriage, the military and day-to-day life aren't unique to her, and she speaks to the growth of every woman.
I wrote both the Virtue Falls and Cape Charade series and set them Washington's Olympic Peninsula, where tourists and locals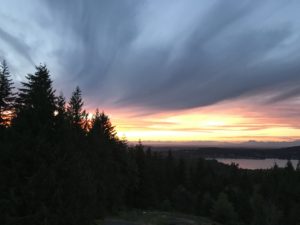 experience the beach, the mountains, the whales, the biking, the boating, the roaring Pacific storms. There are moments of absolute peace when the only things that matter are the beating of your own heart and the sunset glow across the sky. Both series have their roots in my Bella Terra series. I'm doing what I do best, which is develop an expanding world with memorable characters: misfits, snappy old ladies, murderers, psychopaths, women who face the most terrible challenges and rise to conquer every obstacle and their own fears, and one eccentric waitress named Rainbow.
All your new book questions answered!
— Christina
Q. Will you write any more paranormals?
A: Darkness Chosen, my first paranormal series, has reached its conclusion, and the spin-off series called the Chosen Ones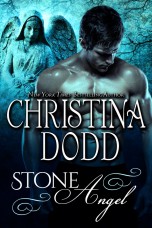 is now complete with STONE ANGEL, an original novella and prequel to WILDER. I've also written a Darkness Chosen short story, WILDER FAMILY HALLOWEEN, which is posted on my website for you to read free at any time. For readers who want to add it to their collection, WILDER FAMILY HALLOWEEN is also available for purchase for 99 cents from Kindle, Nook, Kobo and iBooks. Currently there are no more paranormals in the works.
For more information, please visit the paranormal section of my website where you can read excerpts and discover how I came up with the ideas.
— Christina
Q. Are you going to write any more historicals?
A: I released A PIRATE'S WIFE FOR ME, a new full-length novel about Caitlin MacLean, the long-awaited story of the sister from LOST IN YOUR ARMS.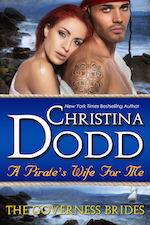 Caitlin MacLean of Scotland is proud to announce her graduation from The Distinguished Academy of Governesses. She specializes in the womanly arts of housekeeping, picking locks, and overthrowing ruthless dictators, and is looking for a position wherein she can utilize these skills. No dashing, dastardly pirates or faithless, former lovers need seek her services.
Ship's captain (and prince in disguise) Taran Tamson is by coincidence in need of the best lockpick in the land; he needs the reckless auburn-haired beauty to retrieve the papers that will help him leave behind his swashbuckling ways and win his island kingdom of Cenorina. He assures said lady that he will honor her demand for a proper, chaste relationship for as long as she desires it, then use his every sensual wile to make sure she desires only one thing — him…
You can get A PIRATE'S WIFE FOR ME for Kindle, iBook, Nook, Kobo and online in paperback!
— Christina
Q. Where do you get your ideas?
A: I get ideas everywhere — from the news, movies, books, friends, songs. There are so many ideas and not enough time to write all the books I want to write. For a humorous look at the question, here's my take on the process.
— Christina
Q. How do you decide which stories to write?
A: Let me tell you about how I conceived the idea for my contemporary suspense series, the Lost Hearts series. There are so many contemporary ideas to be found! In the newspaper, on television, and in real life. The idea sprang to life when I heard about a couple who adopted a family of six children from the ages of seventeen years to six months. I knew that each one of the children would have different conflicts about losing their biological parents — for instance, the oldest might understand what had happened, the middle children might feel abandoned, and the baby wouldn't remember any other life.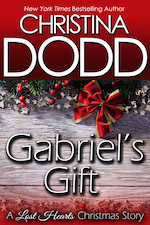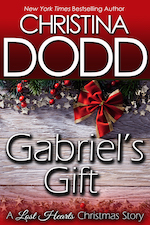 From there, it was a short leap to the concept of a family who were separated from, not only their parents, but each other. I knew they would search for each other. I knew they would want to discover what happened to their parents. And I knew they would want to find a sense of belonging and true love.
As the trilogy progresses, each story ends with a clue about who the heroine of the next book will be, and partially solves the mystery of what happened to separate their family. The Lost Hearts series includes:
JUST THE WAY YOU ARE
ALMOST LIKE BEING IN LOVE
CLOSE TO YOU
Gabriel's story is DANGER IN A RED DRESS (The Fortune Hunters #4)
GABRIEL'S GIFT: a Lost Hearts epilogue
— Christina
Q. Can I get a list of your books listed in series order?
A: Here's the Downloadable/Printable book list sorted by genre, series and in order and the more expansive "Books by Series and in Order," page.
— Christina
Q. How do you keep your ideas fresh and avoid traveling over well-worn territory?
A: Story situations become clichés because they're the tales people want to hear over and over. When I start a book, I try to think of the stories I've enjoyed, and use that as a basis for the plot, giving it my own twist and my own characters. 
— Christina
Q. What advice do you give aspiring writers?
A: The best way to learn to write is to sit down and do it. For my articles on writing, I suggest: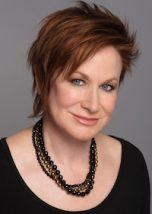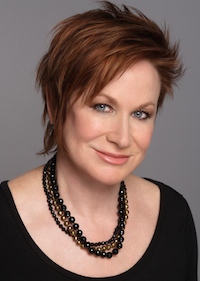 — The Best Way To Write A Book (Imagine that, I have an opinion.)
— How Many of My Characters are Based on Real People?
— My Brief and Random Writing Tips
— The Nuts and Bolts of Writing Sex
— My Funniest Mistakes
— You might also want to check out my bio to see how long it took me to get published (hint: a long time.)
Best of Luck!
Christina