Food and Wine Pairings
 Christina Dodd's Cheese Plate Extravaganza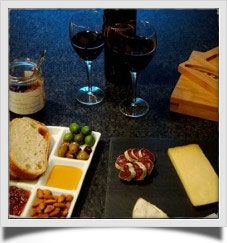 I personally would go a long way for a really great cheese plate, but sadly most restaurants fall flat in this respect. They may provide great cheeses, but it's in such small amounts, it seems like a tease. Or the sides aren't up to snuff. So, here I present Christina's guide to making the perfect cheese plate:
First, choose three cheeses. Unless you're making a cheese plate for 10 plus people, I find that more than three cheeses clogs up the line. Also, you'll end up with pounds of cheese leftover, which sounds tempting, but generally leads to expensive moldy cheese in your refrigerator drawer.
Rule of thumb on cheeses: pick one blue (or if you're not a blue cheese fan, go with any strongly flavored, semi-firm cheese), one hard cheese like aged Gouda or English Cheddar, and one soft cheese (like Camembert or Brie). Of course, you could go all tasting menu and create a cheese theme (say, three types of Gouda), but I like variety. It's the spice of life, you know! And folks, do not be afraid to go to the cheese counter and ask for samples. Sample away. Far better that than having a chunk of goat cheese like tastes like a dirty sweat sock to you.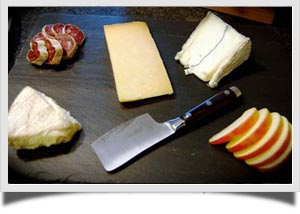 Once you've got your cheeses (and in my case, far too many ceramic and slate cheese plates to present them on), you need sides. Here's where your imagination can run wild! Get yourself a jam: membrillo (quince paste) is traditional, but there's also cherry jam from Olivier & Company, jellied cranberries from a can (I swear it's tasty with Brie), or my personal favorite, Tea-Rose Petal Jam from Harvest Song. Then some nuts, like marcona almonds, candied walnuts, or spiced cashews; a dried fruit or two – cranberries, apricots, whatever fits your fancy; a sliced apple – I'm a big fan of Gala or Pink Lady; a good, crusty bread; and then maybe some odds and ends, like candied ginger, a rosemary olive mix, or lavender honey. And voilà! A cheese plate with something for everyone!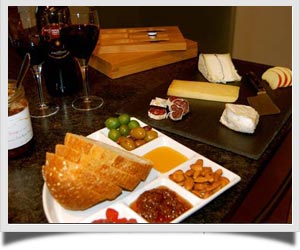 Many people have cheese plate rules. Don't eat nuts with soft cheeses or don't make tasty sandwiches out of rosemary bread, rose petal jam, and Camembert. Good news — there are no rules with a Christina Dodd cheese plate! Use the soft cheese knife to hack away at the hard cheese, if it makes you happy. Combine honey with Brie and sliced apple. Enjoy the combinations!
And most importantly, assuming you're not a teetotaler, you'll be needing some wine. If you're more of a white wine person, go with a crisp, stone fruity Pinot Gris. If you're a red wine lover (my hand is raised), head for light reds, like Cabernet Sauvignon. You may ask, "Christina, are there rules to what wine goes with what cheese?" To which I reply, "Does it look like I'm going to stop eating cheese and drinking wine long enough to look up rules? Ha!" I get positively jaunty when there's wine and cheese involved. Happy cheese plating!
10 Reasons Authors are Weird
You can find my printable book list here.
Here is my "Books by Series and in Order."
Join my mailing list for upcoming book information and more recipes!
Easy Rosemary and Garlic Roasted Potatoes