Jayne Ann Krentz, Christina Dodd in Person!
The DEAD GIRL RUNNING booktour is over but never will it be forgotten. Pal Jayne Ann Krentz (Amanda Quick) and I flew to
Chicago, Phoenix, and Houston to sign at some of the best mystery bookstores in the nation. What was that like? We filmed the autographing at Poisoned Pen in Scottsdale AZ.The filming was done by rank amateurs (us), but entertaining if you'd like to watch us talk about writing, reading, DEAD GIRL RUNNING and THE OTHER LADY VANISHES, and real life. We also give each other a tough time. There's a lot of screaming laughter in the video, and man, do I wish I'd checked the angle of the filming. Good thing I have great legs.
I know that because my mother said to me, "You have great legs…and you got those from me." Heh! I hope you enjoy the video; it's almost like being there,  and thank you to everyone who came and everyone who has been so generous in your praise about DEAD GIRL RUNNING.
You can also watch other videos like:
The Tour of my Office
THE WOMAN WHO COULD SCREAM (My trip on the zipline)
The Dead Girl Running Book Trailer
The Husband creating pots out of tree stumps
Film Stars and Glamorous Photos!
Check out the photo page for the DEAD GIRL RUNNING autographing tour. There are pictures of author stars Jayne Ann Krentz (Amanda Quick), Susan Elizabeth Phillips and Mary Kay Andrews, as well as whatshername… Christina Dodd…
Autographed copies of DEAD GIRL RUNNING and THE OTHER LADY VANISHES are available at these local independent bookstores:
Murder By The Book
Houston TX
713-524-8597
Blue Willow Books
Houston, TX
(281) 497-8675
Katy Books
Katy, TX
(281) 578-7770
Poisoned Pen Bookstore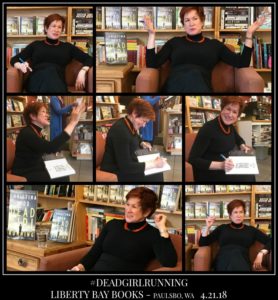 Scottsdale, AZ
480-947-2974
Anderson's Bookshop
Naperville, IL
630-355-2665
Page 2 Books
Burien WA
206-248-7248
Chapters Metrotown
Vancouver, BC
604-431-0463
Liberty Bay Books
Poulsbo, WA 98370
360-779-5909
All stores ship, some internationally!
PLA Frustration: Dang that Weather!
I was thrilled to get the opportunity to go to the Public Library Association in Philadelphia and announced everywhere that I would be

autographing and on a panel. I got my hair cut. I got a manicure. I was excessively groomed!

An hour after I closed my suitcase, I got a text from Alaska Air — they had cancelled my flight the next day. Mother Nature had chosen to drop huge amounts of snow on Philadelphia and I wasn't going anywhere. I was and am devastated. I had something to say to the librarians and everyone connected to the libraries, so I sat down with my great hair and nails and made a video to talk a little about my early life in reading, how librarians are a part of my 94 year old father-in-law's life, and to thank librarians everywhere.

I hope if you agree that our libraries are a national treasure that you'll share this video with your friends and take the time to thank your local librarians for their part in sharing stories, literacy and community services.

My printable book list sorted by genre/series/in order.
Here's my, "Books by Series and in Order," page.

DEAD GIRL RUNNING Starred Review from Booklist: "From the unforgettable heroine with a past to the incisively etched cast of secondary characters to the brilliantly imaginative plot, Dodd is at her most wildly entertaining, wickedly witty best."