Good News for Your Book Buying Budget!
At each autographing, when you purchase/order a Christina Dodd book, I give you an all-organic lavender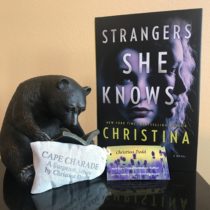 sachet grown at my home in NW Washington. (We have 700 plants…long story. Read about it here.)
Well. Ahem. Someone is selling a sachet on eBay for $7.99!
Here's what I figure. In mid-November, at Page 2 Books in Burien WA, I'll be autographing STRANGERS SHE KNOWS and any other Christina Dodd book you order: details here. I'll autograph the book to you and give you a sachet valued at $7.99 (one per customer) absolutely free! That's a huge boost to your book-buying budget!
:beaming: Whattayathink?
An Amazon Best Book of the Month! 
"Dodd at her brilliant best!" (starred ALA Booklist review)
Join my mailing list now for book updates and a free short story, THE WATCHER!