Good News for Your Book Buying Budget!
At each autographing, when you purchase/order a Christina Dodd book, I give you an all-organic lavender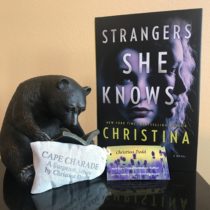 sachet grown at my home in NW Washington. (We have 700 plants…long story. Read about it here.)
Well. Ahem. Someone is selling a sachet on eBay for $7.99!
Here's what I figure. On February 8, I'll be autographing STRANGERS SHE KNOWS with fabulous suspense authors Allison Brennan and Paige Shelton at Poisoned Pen Bookstore in Scottsdale AZ. We'll be discussing our newest titles, then we'll autograph and there will be a tea (with cookies!): details here. I'll autograph the book to you and give you a sachet valued at $7.99 (one per customer) absolutely free. That's a huge boost to your book-buying budget! And if you can't make it to the autographing because you live in, say, Japan, Poisoned Pen ships everywhere in the world.
:beaming: Whattayathink?
All book signing information here. 
Order your signed copy of STRANGERS SHE KNOWS here.
Need an updated list of my books?
Downloadable/printable book list sorted by genre, series and in order.
Book list sorted by series with covers linked to the individual book page.
An Amazon Best Book of the Month! 
"Dodd at her brilliant best!" (starred ALA Booklist review)
Join my mailing list now for book updates and a free short story, THE WATCHER!