Fun Facts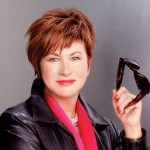 Fun Facts About Christina: Interview with the Author
1. Christina, what would you rank as your top three talents?
I can cook, I can write, and … ummm. Well, I can cook, and I can write.
2. What has been your biggest writing accomplishment so far, and how did you celebrate it?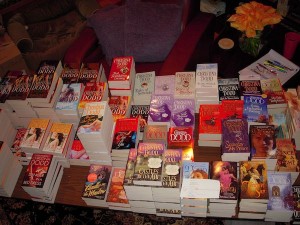 Getting my first book published (CANDLE IN THE WINDOW) was incredibly difficult and took ten years. My husband and I took my advance and our kids to DisneyWorld. Hitting the NYT for the first time was huge — and my husband brought home flowers, candy and champagne. He's the reason I believe in romance. Continuing to write successfully for thirty years and fifty-eight romance and suspense novels has been a celebration in itself. I'm proud of what I've accomplished.  Writing is what I was born to do!
3. It took 10 years and three manuscripts before you sold. What was the problem with those early efforts? Did it have anything to do with setting your story in Guatemala and throwing in every plot device but the kitchen sink? Just wondering.
Let me think. Yes. You put it very well.
4. Critics laugh at genre (suspense and romance) conventions, such as heroines who battle against all odds to save the world while creating their own fulfilling life. Are we shameless panderers when we write this stuff?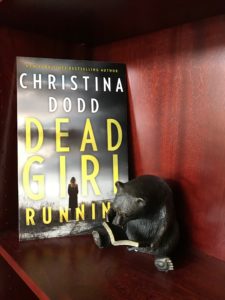 I am absolutely a shameless panderer to the female fantasy, just as Hollywood shamelessly panders to the male fantasy with the James Bond franchise. Really — is a nineteenth century cross-dressing female doctor who travels undetected from Boston to Guatemala to heal native Americans (to hark back to my first, unpublished historical) any sillier than a man who dresses in expensive suits, steals a nuclear reactor, escapes unhurt through a hail of gunfire and explosions to spend the night in the arms of a beautiful, anonymous woman who conveniently appears for sex and disappears (or dies) before the affair gets messy? Yes, I've been known to laugh at the critics, too. Also, you can read an article I wrote for the Romance Writers Report titled "Romance Clichés for the Twentieth Century."
5. What can you tell readers about yourself that they'd never guess from your books?
Considering that I've written some spooky paranormals, and some thrilling suspense novels, I guess readers would be surprised that I'm the biggest chicken in the world. "Ghostbusters" scared me.
6. There have been surveys that say genre books are on the downslide.
Someone should tell Nora Roberts and James Patterson.
7. If someone were to ask you for advice on becoming a writer, what would you tell them?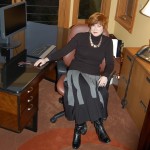 Put your rear in the chair and write. I For my articles on writing, I suggest:
— The Best Way To Write A Book (Imagine that, I have an opinion.)
— How Many of My Characters are Based on Real People?
— My Brief and Random Writing Tips
— The Nuts and Bolts of Writing Sex
— My Funniest Mistakes
11. Which authors / books have most influenced you?
When I was six, I started reading Laura Ingalls Wilder's Little House series, and I never looked back. I love THE LORD OF THE RINGS; in fact, my husband and I named my daughters after the female characters. I read research books for fun. My favorite book ever is either CHARLOTTE'S WEB or TO KILL A MOCKINGBIRD. Or maybe the HARRY POTTER series. And of course, I read suspense and romance of all kinds — which is why I write suspense and romance of all kinds! Here's my printable book list sorted by genre/series/in order.
8. Favorite vacation destination so far?
Scotland.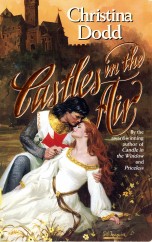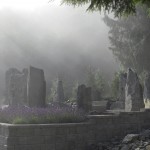 9. Funniest career-related event?
The original cover of CASTLES IN THE AIR, aka the three-armed woman.
10. Coolest structure in your yard?
You peeked! My husband built us our own stone circle. Read all about it!
11. Is it true your dog Ritter is your ghost writer?
No, he is not, and I wish he would stop spreading that rumor. My husband and I did train Ritter to be an assistance dog. He almost made it, too!
Now that you know a little more about me, please take a moment to join my newsletter friends and receive THE WATCHER as a free e-short story. I'd love to have you join us.