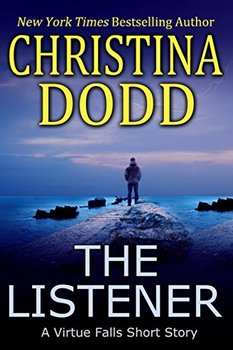 Virtue Falls #0.5
September 2, 2014
Self Published
Available in: e-Book (reprint)
The Listener
If you knew someone was going to commit a murder, what would you do?
Virtue Falls misfit and computer security expert Cornelia Markum hacks into a text conversation between unidentified Virtue Falls residents … and realizes she's stumbled into a murder plot.
New York Times Bestseller Christina Dodd kicks off her Virtue Falls suspense series with THE LISTENER, an intriguing short story of misunderstandings…and murder.
Welcome to Virtue Falls
Founded 1902
Your Vacation Destination on the Washington Coast
Home of the World Famous Virtue Falls Canyon
Population 2487
At two-thirty pm on the Thursday afternoon, Coast Guard Commander Kateri Kwinault shoved open the door to the Oceanview Café, stalked inside, seated herself on a stool at the lunch counter and slapped her palm flat on the Formica surface. "I'll take a beer."
Rainbow finished wiping off a table, balanced the dirty dishes on one arm, and strolled over to the wall behind the counter. She dumped the dishes in one plastic pan, the silverware in another. In a tone of colorless courtesy, she said, "I'm sorry, we here at the Oceanview Café don't have a beer license."
Kateri slapped the counter again. "I'll take a bourbon on the rocks."
"I'm sorry, we here at the Oceanview Café don't have a liquor license."
"I'll take a puff of weed."
Rainbow put her fists on her ample hips. "I'm sorry, we here at the Oceanview Café don't have a marijuana license."
Kateri sighed. "I'll take a full fat, full sugar half caff latte with two pumps of vanilla."
"That I can do." Rainbow Breezewing, waitress at the Oceanview Café and all-round Virtue Falls busybody, hustled to the coffee machine and programmed it, then before she punched go, she returned, leaned down, and looked deep into Kateri's eyes. "Real cow's milk? Because you know what that does to your digestion."
"I really need full fat cow's milk," Kateri said.
"Do you want to spend the afternoon being gassy?" Rainbow leaned closer.
Kateri backed up. "Fine. Soy milk. If there's one thing I hate, it's hanging with someone who saw me grow up."
"You could go to the Halfway Bar." Rainbow put the latte in front of Kateri.
"Yes, because that's a classy place for a single woman to hang out." And for all her joking around, Kateri didn't drink. Native American didn't do so hot with liquor. The results were even more dire than cow's milk. "Besides, I'm on duty."
"So you took a break?"
"No use being the station commander if I can't give myself some time off when I need it. I took the new kid out for a trial run up the coast." Kateri took a sip and grimaced. "Have I mentioned I hate soy milk?"
Rainbow leaned her elbows against the counter and propped her chin in her hands. "He didn't work out?"
"He compared the Pacific Ocean with New York harbor."
Rainbow cackled like a hen.
"Precisely." Kateri took another sip and put the cup down.
"What's his name again?"
"Lt. JG Landon Adams. His uncle was a senator. His uncle got voted out, so Landon … Landlubber" — Kateri laughed, and realized she'd just found his nickname — "lost his job in the civilized world and had to come out here."
"Bit of a culture shock?"
"He asked about the music scene." Kateri met Rainbow's gaze straight on. "Ensign Sanchez told him the high school version of Oklahoma was quite good."
Both women started laughing so hard Kateri had to hide her face in a napkin, and the four retired men in the corner turned indignant faces their direction.
"Uh-oh. Wait a minute." Rainbow grabbed the coffee pot. "I'd better go warm up their cups or they'll stop complaining about the government and start complaining about me."
Make sure you join my mailing list so I can notify you when my new titles are released!
back to Top