Darkness Chosen Audio CD Contest
Enter a complete sets of Darkness Chosen audiobook CDs! The sets each include these full-length romantic suspense novels: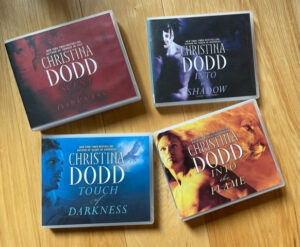 SCENT OF DARKNESS: Classic romance between a secretary who hopelessly loves her boss…only to discover he's a shapeshifter. Oops.
TOUCH OF DARKNESS: A deception threatens the love between a woman determined to reveal the evil that killed her family … and the man who has shares those unholy gifts.
INTO THE SHADOW: Bad boy shapeshifter brought to his knees by the woman he should never love.
INTO THE FLAME: As the Wilder family saga sweeps into its stunning climax, the only Wilder daughter realizes the lie she has lived … and discovers a love lost.
My international readers are important to me! The prize for international readers (from a country other than the United States) is a $25 Amazon gift card.
This contest ends midnight PT May 20, 2021. The winners will be picked by a randomizer. Winners will be notified by email.
Christina Dodd downloadable/printable book list sorted by genre/series/in order.