Darkness Chosen The Legend
A thousand years ago, Konstantine Varinski, a magnificent warrior of savage cruelty, roamed the Russian steppes. Driven by his craving for power, he struck a terrible bargain. In return for the ability to change from a magnificent warrior into a predator that could hunt down his enemies wherever they hid, he promised his soul — and the souls of his descendants — to the devil.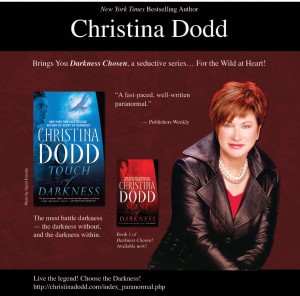 To Konstantine Varinski and to each Varinski since, the devil bequeathed long life and good health. They could not be killed in battle except by another demon. Because of their battle prowess, their endurance and decisiveness, they become rich, respected and feared.
Through czars, Bolsheviks and even presidents, they retained their warrior compound, went where they were paid to go, and with flawless ferocity, crushed uprisings and demanded obedience.
They called themselves THE DARKNESS.
They could breed only sons, a matter of much exultation to them. With each child, they hailed the birth of a new demon, and raised the child to be a ruthless warrior worthy of the name Varinski.
For no Varinski ever fell in love … until one did.
No Varinski ever married … until one did.
No Varinski ever fled the compound and their way of life … until one did.
For the first time, cracks appeared in the solid foundation of the deal with the devil.
Heaven took note.
So did Hell.
The Darkness Chosen series: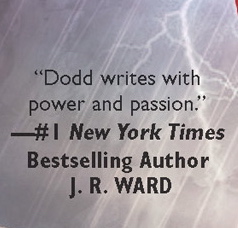 SCENT OF DARKNESS: Classic romance between a secretary who hopelessly loves her boss…only to discover he's a shapeshifter. Oops.
TOUCH OF DARKNESS: A deception threatens the love between a woman determined to reveal the evil that killed her family … and the man who has shares those unholy gifts.
INTO THE SHADOW: Bad boy shapeshifter brought to his knees by the woman he should never love.
INTO THE FLAME: As the Wilder family saga sweeps into its stunning climax, the only Wilder daughter realizes the lie she has lived … and discovers a love lost.
WILDER FAMILY HALLOWEEN, the short epilogue to Darkness Chosen, is free to read here on my website. For collectors, it's also available for purchase, but please do take the opportunity to read it free first!
Here's my downloadable, printable book list sorted by genre/series/in order.
Here's my Books by Series page.
Join Christina's mailing list now for book updates and a free short story, THE WATCHER!