THE WATCHER: A Story of Virtue Falls #6
Description
When Sheriff Kateri Kwinault gets a call about something strange happening at the local boys' and girls' summer camp, she finds herself telling a scary story that might be a little too close to the truth…
Settle down by the campfire and read THE WATCHER, a stand-alone Virtue Falls short story.
Buy it for $1.99 or download it free when you join my mailing list!
Don't have an e-reader? Download a free app, such as the Kindle app or Nook app, to read THE WATCHER on your phone or computer.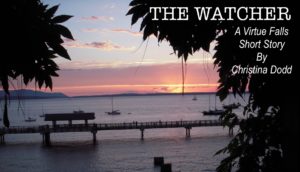 Excerpt
Sheriff Kateri Kwinault's cell phone rang; she glanced at the car screen and pulled over to the curb. In Virtue Falls, a town of eccentrics and loners, Rainbow Breezewing was the undisputed wise woman, and she always required all of Kateri's attention. "What's up, Rainbow?"
Rainbow whispered, "I want you to come to the Oceanview Café and arrest the Rosen kids."
"What did they do now?"
"They're eating lunch."
Kateri laughed.
"It's like those kids have never eaten in public before. Except they come in every. Single. Saturday." Rainbow spaced the words for maximum dramatic effect. "Watching them consume fries is better than watching a contraceptive commercial."
"Whatever works. You didn't really call me to complain about the Rosen kids, did you?"
"No." Rainbow's voice got grim. "There's a situation at the camp on the reservation."
"The boys' and girls' camp?"
"It's the only one out there."
"What kind of a situation?"
"Come on over. You can help me clean melted Velveeta off the metal napkin holders and I'll fill you in."
Join my mailing list to get this short story free and for book release news, contests, and fun!