Princess Series Paperback Contest
Christina Dodd is giving away a set of the Princess paperbacks for one lucky Christina Dodd newsletter reader! That would include the two full-length historical romances: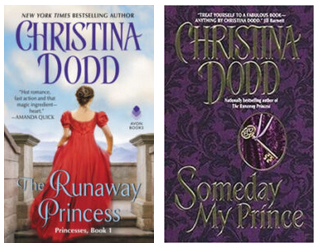 RUNAWAY PRINCESS: Evangeline is a librarian who spent her life with books. Her patroness dies and leaves her a fortune, she buys glamorous clothes and travels abroad, is mistaken for a princess, kidnapped by a prince who believes they're betrothed, chased by assassins, and manages to put her research to use (karate, rappelling, shooting rapids) to try to escape her fate. Good luck with that.
SOMEDAY MY PRINCE: Princess Laurentia has to marry and produce an heir and a spare; instead she's almost kidnapped, hires Dom, a disreputable bodyguard who's the bastard brother of a neighboring king, finds love, then betrayal, then discovers she's capable of scorching fury, rescuing herself, loud laughter, saving her country, wild passion, and all the things she had learned a princess should eschew.
The deadline to enter the Christina Dodd Princess paperback contest is Saturday, February 19, 2022 at midnight PT, so fill out the form below to enter now!
Are you a fan of audiobooks? Here's another contest for you, my dear newsletter reader, as a thank you for reading my newsletters and enjoying my books!
*My readers outside of the U.S. are important to me, so should the randomizer choose a reader outside of the U.S., in lieu of the physical prize s/he will win a $25 Amazon gift certificate.