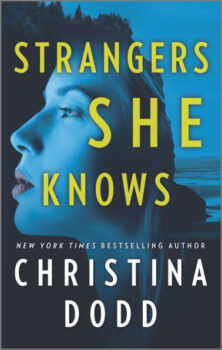 Cape Charade #3
June 30, 2020
HQN
ISBN-10: 1335016619
ISBN-13: 9781335016614
Available in: Paperback, Audio, e-Book (reprint)
Strangers She Knows
I have three deadly problems:
1. I've seriously offended a maniacal killer.
2. I just had a bullet removed from my brain.
3. My new daughter is growing up too fast—and she's in the line of fire.
Living on an obscure, technology-free island off California means safety from the murderer who hunts Kellen Adams and her new family…. Or does it? Family time becomes terror-time, and at last, alone, Kellen faces a killer playing a cruel game. Only one can survive, and Kellen knows who must win…and who must die.
Listen to an audio excerpt:
"Mommy."
The whisper at midnight, right above Kellen's face, brought her out of a dead sleep and into wide-eyed terror. When she processed the voice — her ten-year-old daughter Rae — she calmed herself and whispered, "What's wrong?"
"Mommy, I had a nightmare."
Kellen had been afraid of this; too much change and excitement, and Rae's subconscious was rolling out the nightmares. "I know, sweetheart." She rolled over and pushed at the inert form beside her. "Max, move over."
Some deep-voiced mumbling occurred while Max crawled to his edge of the mattress.
Kellen had worn him out. Poor guy.
She lifted the covers.
Rae scooted in. The child was shivering, clutching her tattered blankie and stuffed llama, in the grips of some shadowy dread.
Kellen pulled her close, trying to warm her.
Rae whispered, "Can Luna come up, too?" Which the dog wasn't supposed to do, not on the family bed. Max didn't approve.
But… "Sure." Why not? What was a queen-sized bed for, but to accommodate parents, child and animals, stuffed and real? Kellen patted the bottom of the bed.
Luna leaped up and stretched out on their feet.
Not exactly what Kellen had planned, but bonus points to the dog for bringing Rae through the shadowy corridor and into their bedroom. "Did the nightlight in your room help?"
"No. That's why I saw the lady!"
"What lady?"
"An old lady with silver hair. I dreamed someone was standing over me and I was scared. But I remembered what you said about facing my nightmares and I opened my eyes to look at her. She was supposed to disappear, and she was still there! She put her finger to her lips for me to be quiet, then she touched my forehead, then she went into the wall and vanished!"
"She touched your forehead? Like how?"
"Like you do when you kiss me goodnight."
"So it was a nice touch."
"Yes. But she was real." Rae curled into a tighter ball, still shivering.
"That sounds like a pretty good dream to me."
"She disappeared into the wall."
"That's spooky," Kellen acknowledged. "What did Luna do?"
"She lifted her head and stared at the lady."
"You know if Luna thought you were threatened, she would protect you."
"I know," Rae said in a small voice.
"You've had a lot of nightmares since we left Yearning Sands."
"Because of the dead man with no hands."
Kellen went on alert. "How did you hear about that?"
"From Chloe, and Maverick and Rayleigh." In a return to her snotty tone, Rae said, "Before you took my phone away."
Kellen chose to ignore the snottiness. "Awful story, isn't it? Scary."
In a small voice, Rae said, "Yes."
"But that's in Cape Charade, and we're safe on Isla Paraíso so right now, let's say your lady was a dream, too."
"She wasn't!" Rae was all rigid indignation.
"Shh. You'll wake your daddy. Tomorrow we'll look around your room and see if we can figure out where the lady came from."
"Ruby's diary said there were secret passages!"
"That's right." Which is probably why you dreamed about them. "Tomorrow we'll find out if one of them opens into your room."
I'd love to welcome you as a newsletter friend. You'll enjoy book updates, book sales, surveys, and humorous insights to the writing life. Join!
back to Top