A thank you from Christina Dodd
THE WATCHER, a Virtue Falls short story, is free to you as a thank you gift for being a valued member of my mailing list. Truly, thank you for your many kind words of encouragement and praise through the years.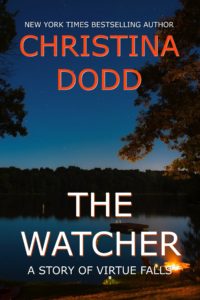 You can read an excerpt of  THE WATCHER, then download for all venues here. If you have trouble getting THE WATCHER, tap the "Help Me" link at the top of the book download page and the friendly support team will help you get your story!
If you have friends who would enjoy THE WATCHER, please send them to the newsletter sign-up page and encourage them to join.
Want a "Books by Series and in Order" page? It's here.
Want the printable booklist sorted by genre/series/in order? It's here.