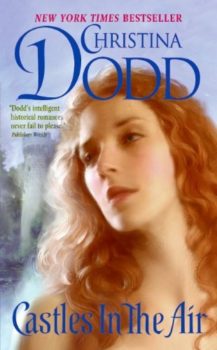 Castle #2
November 1, 2009
Avon Books
Available in: Paperback, e-Book (reprint)
Castles in the Air
Bound by the King . . .
The document, signed and sealed by King Henry himself, commanded lady Juliana of Lofts to marry Raymond, Count of Avraché.
Shattered by the Past . . .
She refused, though it was treason to defy one's king. What man would have her once he discovered her secret?
One Knight Would Crusade for His Lady's Heart
Yet Raymond would not be denied. And when he came for her, she'd learn that even the strongest will cannot resist the softest touch.
Looking for the three-armed cover? Click here to read.
CASTLES IN THE AIR was my fourth book, featuring a character introduced in CANDLE IN THE WINDOW, and yes, this is the book that featured the infamous cover. But the story is wild and romantic, and born of my fascination with the rough Medieval custom of getting a wealthy bride by kidnapping. Once an heiress had been stolen and kept by a man, she had to marry — and Sir Raymond of Avrache is impoverished and desperate enough to get his woman any way he can … and that includes abduction. Of course, he didn't expect to end up with the defiant and fascinating Lady Juliana…
ENGLAND 1166
She had all her teeth.
Raymond heaved a sigh of relief. She was wrapped in too many layers of clothing to see aught else and she fought him with all the strength in her slight body, but her teeth glimmered behind her blue lips and they made a sturdy clinking as they chattered together. That meant she was young enough to bear children, in reasonable health, capable of warming his bed.
He tried to lift her onto his horse, but she twisted in his arms, flinging herself down onto the woodland path and scrambling away with a desperation he respected. Respected, but ignored. Too much was at stake for him to pay attention to a woman's apprehensions.
She floundered in the snow that misted the ground. Catching her, he wrapped her in his cloak, bundling her so tightly that her hands and feet flailed uselessly. With a heave, he tossed her face down in front of the saddle and mounted before she regained her breath. "Steady, Lady Juliana, steady," he soothed, patting her back as he urged the horse forward.
She battled against his solace, kicking her heels and trying to slide away. He didn't understand her persistent opposition in the face of such odds, nor did he understand the impulse that drove him to try and comfort her as if she were some wild bird he could charm to his hand.
Perhaps her refusal to scream appealed to his sympathies. She'd made no sound since he'd stepped out from the trees, only fought him with determination and silence.
Then again, perhaps she couldn't say anything. Bundled as she was, with her head bobbing beside the horse's belly, he couldn't see her face, and he began to wonder if she could breathe properly. Leaning down, he groped for her face, and those same strong teeth he admired bit deep into his fingertips. He jerked his hand back with a grunt and an oath, shocked by her violence, yet not truly surprised.
Hadn't he compared her to a wild creature? His own carelessness was responsible for his pain, and he sucked the drop of blood from his skin and then tucked his hand into his armpit to warm it.
Her breath froze as she panted harshly, the sound rending the still air. Scratched from the sky by bare, ice-tipped branches, the snow sifted down relentlessly, filling the spaces between the dried leaves with a thin layer of white. Damn, it was cold, and getting colder by the moment. "We'll be there soon," he said aloud, and held her firmly as his promise brought renewed strife.
He topped the hill, and the blast of frigid air snatched his breath away. Here the threatening blizzard threatened no more. It was reality, and the world disintegrated into a narrow, white passage that opened as they moved through and closed behind them. The woodcutter's hut stood not far ahead, yet he worried about the lady, now rigid where she lay over the horse. He leaned over her to give her all his body warmth and peered ahead.
Dug into the hill, the hut proved a godsend for him, providing a stock of fuel for warmth and a store of dried foods. Traveler's provender, he'd guessed, provided by Lady Juliana of Lofts and used by him for her abduction.
Read about the original cover of CASTLES IN THE AIR and how an artist's mistake made it infamous!
back to Top