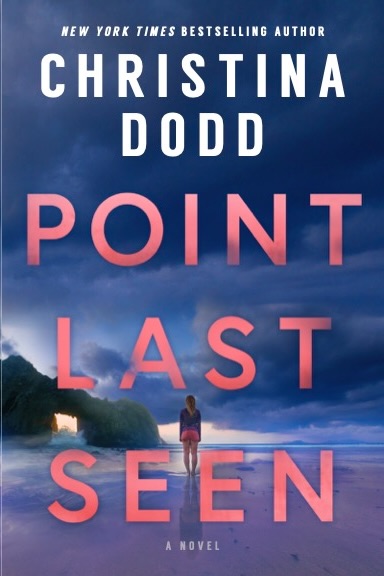 Last Seen in Gothic #1
January 24, 2023

ISBN-10: 133567991X
ISBN-13: 9781335679918
Available in: Hardcover, Paperback, Audio, e-Book, Trade Size
POINT LAST SEEN
LIFE LAST SEEN
When you've already died, there should be nothing left to fear… When Adam Ramsdell pulls Elle's half-frozen body from the surf on a lonely California beach, she has no memory of what her full name is and how she got those bruises ringing her throat.
GIRL LAST SEEN
Elle finds refuge in Adam's home on the edge of Gothic, a remote village located between the steep lonely mountains and the raging Pacific Ocean. As flashes of her memory return, Elle faces a terrible truth—buried in her mind lurks a secret so dark it could get her killed.
POINT LAST SEEN
Everyone in Gothic seems to hide a dark past. Even Adam knows more than he will admit. Until Elle can unravel the truth, she doesn't know who to trust, when to run and who else might be hurt when the killer who stalks her nightmares appears to finish what he started…
Perfect for fans of Lisa Jewell, Karin Slaughter and Sandra Brown, New York Times bestselling author Christina Dodd's all-new thriller, POINT LAST SEEN, will have readers keeping the lights on all night.
Out now in ebook, hardcover, trade paper, mass market and audiobook.
Want a personally autographed copy? Info here!
Listen to an audio excerpt:
Add POINT LAST SEEN to your Goodreads To-Read List!
On stormy nights, Gothic is said to disappear and on its return, it brings lost souls back from the dead. — The Legend of Gothic California
Today
On a beach below Gothic…
Adam Ramsdell saw something long and black rolled in on the swells, a long parcel of…plastic? It disappeared under the first line of breakers, then appeared again, battered by an insistent ocean. As the bundle moved, it undulated; probably a tangle of plastic ripped from the massive raft that polluted the Pacific. If he didn't handle this, a seabird would ingest it and die, a fish would nibble at it and turn into a stinking corpse on the beach, a curious child would find it and…
He shuddered. At one time, it had been his job to figure out every possible consequence for any given situation, and he knew only too well what could happen in this worst case scenario. He made his way off the rocks, down to the sand.
The ocean rocked the black plastic back and forth, back and forth, pulling the parcel back out into the deep, then shoving it farther onto shore to the spot where the foam gathered and the waves grew shallow. As he walked, a wave rolled the bundle lengthwise—and a feminine arm flopped out.
He broke into a run. He splashed into the water, grabbed the arm—it was icy—and the plastic—it was a long rain poncho—and dragged the corpse all the way onto the sand. Because it had to be a corpse, didn't it?
Yet in the quest for life, he flipped the body out of the poncho and onto her back.
With the sun on her icy, colorless face, his feeble, unrecognized hope faded and he knew the truth—she was dead. He unwrapped her neck to press his fingers to the carotid artery, when he saw them—the marks of a man's fingers ringing her throat.
She'd been dead before she went in the water. A young woman. A pretty woman. A violent crime… Adam knew he would feel no heartbeat.
And he did not.
But he couldn't leave her down here for the seabirds to feed on and the ocean to retrieve. He had to get the body up to the road, onto his ATV and up to the village. From there, he could call the authorities and—
He looked up the cliff toward the road. What a helluva climb. Yet he wasn't a man to shirk his duty. Bending at the knees, he grasped the body around the waist, threw it over his shoulder and stood.
The woman explosively emptied her stomach down his back, gave a gasp, another, another, and when he flipped her back onto the sand, she opened her eyes, looked at him—and screamed.
She screamed as if all the screams in the world had been pent up inside her, as if she had given terror and horror a voice.
He jumped back and held up his hands in a "not going to touch you" gesture.
She rolled over onto her hands and knees, coughed up more seawater, took a long breath as if preparing to scream again…and slowly let it out. She turned her head. The braid of her dark drenched hair hung over her shoulder.
Just out of reach, he knelt on the sand. "Can you speak?"
She stared as if she didn't understand. Maybe she didn't. Maybe she spoke another language. Maybe she'd suffered brain damage from lack of oxygen. Maybe—
"Yes," she said. "I can speak." She was hoarse. She put a hand up to her throat and held it there.
"What's your name?" Keeping his voice pitched low, trying hard to present an unthreatening appearance, he asked again, "What's your name?"
Slowly, moving with the care of someone battered and bruised, she changed positions. She sat on the sand and concentrated at him, her hand still on her throat.
Again he asked, "What's your—"
"I don't know." Her oddly colored eyes were wide with confusion and terror.
He sat back on his heels.
Adam Ramsdell had found his first lost soul.
back to Top
"Smart, fast suspense with a strong romantic element. This is an amnesia plot (I love those), it's got a hero with a haunted past (love those, too), and the setting is a remote small town named Gothic with a cool local legend: "On stormy nights, Gothic is said to disappear, and on its return it brings lost souls back from the dead."  Love all that stuff, too! Seems like someone recently tried to strangle our heroine, Elle, but she can't remember who–or why.  The killer might be anyone in town. I know, what could possibly go wrong, right? " —  What's Jayne Reading? Jayne Ann Krentz, New York Times bestselling author
"When it comes to nerve-shredding, edge-of-your-seat suspense, Dodd (Wrong Alibi, 2020) consistently delivers the goods, and her latest, the first in a new series set in the small Northern California beach town of Gothic, is no exception. Graced with a gutsy yet realistically vulnerable heroine and a hero with a tortured past, it is also enhanced with a cast of ingeniously quirky supporting characters that includes a Hollywood psychiatrist turned psychic and a lifestyle doyenne who could give Martha Stewart lessons in branding. Punctuated with delicious bursts of Dodd's diabolical wit, Point Last Seen is a gobsmackingly great read." — Starred Review ALA Booklist
"Edge of your seat suspense does not get any better than Christina Dodd's latest nail-biting thriller, Point Last Seen… Brilliantly plotted, deftly executed and packed with hair-raising twists and turns readers simply won't see coming, Point Last Seen is an outstanding thriller from a writer who knocks it out of the park every time: Christina Dodd." — Bookish Jottings
To live in Gothic would be a dream. Such wonderful, welcoming and caring people. Perhaps they are all a bit quirky (some might say), but that's perfect, I'd fit right in.…Plus, the town is gorgeous and the scenery breathtaking.…I would almost pack my bags and go rent myself a house, apartment, studio, or even just a shabby old shed, just to be able to call myself a resident of Gothic and start making friends for life. ... ALMOST!
Oh, my sweet, wonderful and dear Gothic friends, why do you have this one dealbreaking flaw? I subscribed to your Town Blab, and I couldn't—for the life of me—have another single restful night sleep. Your wonderful town attracts the most horrible and terrifying crimes imaginable. And it's not just this one, or two. I am certain your town psychic predicts more to come. Oh, the horror!
I'm sorry. From now on, I will admire you from afar, very far. From the comforts of my reading chair I'll read (only in daylight!) all about you. And that will be all! With love and admiration, your faraway friend. — Goodreads review
"In this atmospheric romantic thriller from bestseller Dodd (Wrong Alibi), the city of Gothic, perched on California's stormy Big Sur, is known as a refuge for "lost souls," one of whom is recluse Adam Ramsdell, who turns metal refuse from the sea into razor-edged sculptures that gesture toward his painful secrets and tragic childhood. One day, contemplating suicide, Adam walks along the beach, where he finds a young, beautiful woman in the waves. Bruised and battered, she appears dead, but he revives her, only to find that she suffers from amnesia, able to recall only part of her name—Elle. In the intense days that follow, Adam protects her and helps her recover, and Elle encourages him to speak of the memories that torment him. But their newfound passion is threatened by a sniper's gunshot and suspicious accidents. Elle's memory holds the clue to preventing further tragedy, if only she and Adam can unlock it quickly enough. Local color and humor are provided by secondary characters, including an insightful fortune teller, a troubled teen, and a group of amateur women sleuths known as the Shivering Sherlocks. Dodd's many fans are sure to be satisfied." — Publishers Weekly