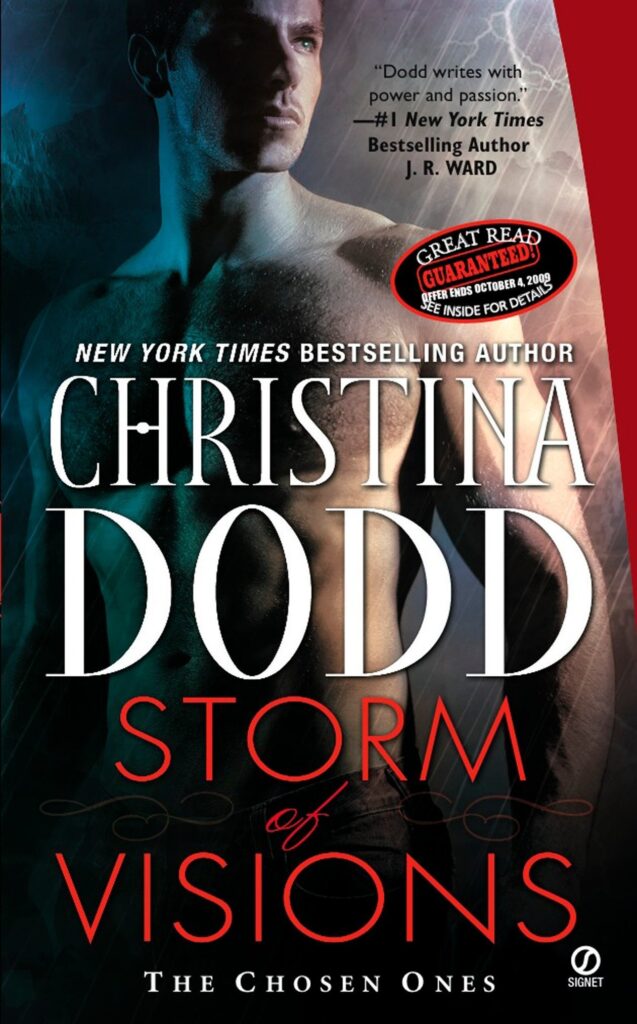 The Chosen Ones #1
July 27, 2021
Signet
ISBN-10: 0451227638
ISBN-13: 9780451227638
Available in: Paperback, Audio, e-Book (reprint)
Storm of Visions
Master romantic storyteller Christina Dodd delivers Storm of Visions, book 1 in a seductive new paranormal series about an ancient rivalry that lives in the world today…
When the world was young, twins were born. One brought light to a dark world; the other, darkness and danger. Their powers could not be denied, and they gathered others around them, men and women destined to use their gifts for good or evil. Today, their descendants walk the earth as the Chosen… and the ultimate battle is about to begin.
Jacqueline Vargha has always run from her gift. Now Caleb D'Angelo forces his way into her life, demands his place as her lover, and insists she take her place as one of the Chosen. She flees, he pursues, but she can no longer deny her visions, or the dangerous man who is her downfall… and her destiny.
"A star in any genre! Dodd writes with power and passion–and always leaves me satisfied!"–New York Times bestseller J.R. Ward, author of the Black Dagger Brotherhood
Listen to an audio excerpt:

STORM OF VISIONS begins my second paranormal series, the Chosen Ones, about a rag-tag group of strangers blessed with special gifts who are drafted by a secret organization to work for good in the world. They suddenly find themselves alone, without help of any kind, and fighting the greatest evil the world has ever known…
TODAY IN THE WINE COUNTRY IN CALIFORNIA
Caleb leaned, shirtless, against the kitchen counter and watched as Jacqueline cleaned the cut she'd put into his ribs with her scissors. It was jagged, it hurt like hell — and he felt a solid sense of pride in her accomplishment. He'd taught her to fight like that, and no man alive had ever done a better job of spitting him.
Of course, no man alive distracted him like a half-naked Jacqueline. After the sex on the bathroom floor and the sex on the lumpy mattress, she had showered — no sex in the shower, she had locked the bathroom door and wedged the towel cabinet behind it — and donned ugly faded plaid pajama bottoms and a clean, baggy, short sleeved t-shirt. He supposed that was her naïve way of saying Hands off. Instead she looked sweet and clean, and smelled of soap and Jacqueline.
"You need stitches," she said for the dozenth time.
And for the dozenth time, he replied, "The scissors are new and clean, my tetanus shot is up to date, and I can get antibiotics in New York City. Just put a butterfly bandage on it. Then start packing."
She dabbed the paper towels into the basin of warm water, then wiped the area around the wound. She didn't look up, didn't respond.
His gaze shifted to fingerless leather gloves she wore. They were well-made, almost the color of her skin, and supple enough to move as she moved. "You didn't used to wear gloves all the time. Why wear them at all?"
"You heard me today at the winery. It's a combination of style and protection."
"Protection?" He mocked her openly. "From the corkscrew, you mean."
This Jacqueline was wiser than the teenager he'd known, less likely to rise to the bait, more inclined to take her time in answering him — or not answer him at all. "How did you find me?" she asked.
He laughed sharply, and winced at the pain. "We never lost you." He had tracked her for the two years of her exile.
She picked up the scissors.
Although perhaps he could have been more tactful about saying so. He tensed, prepared to fend off another attack.
She glanced up and saw him watching warily. "Don't worry. I'm not going to stab you again."
Jacqueline despised him. Despised him and loved him at the same time. It was a painful combination of emotions for Caleb to watch, and for her to live with. He wished … well, it was far too late for him to un-do what he had done, and if he had the chance, he knew he'd do it all over again. Apparently, he could resist everything except temptation — and Jacqueline was the only temptation in his life.
She finished taping the gauze over the wound and stepped back to examine her handiwork. She nodded as if pleased. Then her gaze wandered across his shoulders, his chest, his belly …
God. What she did to him.
And what he did to her. For she closed her amber-brown eyes for one betraying moment. "You can put on your t-shirt now."
He reached for it.
"And leave."
His hand hovered an inch above his shirt. Deliberately misunderstanding her, he asked, "You want to leave now?"
"I told you. I'm not going. I mean, what are you going to do? Shove me screaming and yelling through airport security?"
"I don't have to take you through security. Your mother's new … boyfriend … loaned her his jet. It's registered in Greece. It's sitting at the airport, fueled and ready to fly. You have until tomorrow to make up your mind."
"My mind is already made up."
"Then — you have until tomorrow to change it. Until then —"
She saw the look in his eyes and, prey to his predator, froze for a fatal moment.
He carried her hand to his lips, and kissed her fingers. "Until then, I know what I would like to do."
"What?" Her hostility was apparent, in her stance, in her tone, in her expression.
But her desire glowed like a ember. He had only to breathe it to life, and she would be his. He leaned closer, pressing her against the door, and kissed her, a slow exploration that gained in heat and light with each moment, with each touch. Against her lips, he whispered, "I want to do this. All day, and all night. With you." Tilting her face up, he kissed her until she forgot everything but him, kissed her until he existed only for her. He kissed her resistance away.
Yet when he lifted his lips away, he discovered he was wrong, for she said, "I won't go back."
She would. It was his job to make her. But for now … they had each other. Only each other.
And the rest of the world could go to hell.
back to Top