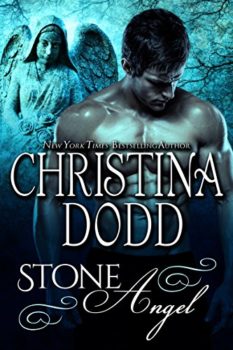 The Chosen Ones #4.5
June 23, 2012
Self Published
ISBN-10: B008EDC6XO
ISBN-13: 0086
Available in: e-Book
Stone Angel
Amanda Reed has been given an ultimatum: risk her life as a madman's spy or her young sister will live out her life frozen in stone, a decorative statue in a wizard's cold mansion. To free her sister, Amanda needs help, help only one man can provide…the man who betrayed her and broke her heart.
Handsome scoundrel Liam Gallagher is an orphan…and one of the Others. He learned to survive by any means, without hesitation or regret. He had orders to seduce Amanda, then, against all odds, he fell in love. Now to win back her trust, he will risk everything, do anything, be anything for the woman he loves.
Together, Amanda and Liam face a terrifying nightmare. But time is running short, and only if these two wounded souls learn to truly trust can they succeed…
"Dodd writes with power and passion–and always leaves me satisfied!"–New York Times bestseller J.R. Ward, author of the Black Dagger Brotherhood
Amanda Reed stepped onto the stage of the Chosen Ones in the guise of Irving's nurse. Yet she hides a terrible secret, and with the help of the brilliant young writer Audrey Shaw, I tell her story in this original paranormal e-novella which takes place after CHAINS OF FIRE, called STONE ANGEL.
Liam stood in the kitchen, heaping goat cheese and roasted garlic onto a piece of toasted bread, a glass of deep red wine standing at the ready next to his plate of olives and cold shrimp. Amanda had to admire a man with that much of an appetite, especially one wearing snug blue jeans and not a thing on his chiseled chest except for a dusting of black hair and the famed dragon tattoo. "Aren't you cold?" she blurted.
He looked up, looked her over, and smiled. Smiled as if the sight of her with her bedhead hair, crummy blue bathrobe and fuzzy green socks gave him pleasure. "Well, what have we here?" he asked. "Another lover of the midnight snack?"
Amanda cleared her throat and tried to focus on anything other than that dragon, sprawling across his chest in glorious Technicolor, clawing at his gorgeously muscled bare torso. And his tousled black hair that she wanted to run her fingers through. And that smile that cajoled and reassured.
The man was lethal — in more ways than one.
"It's a good plan you came up with. As good a plan as is possible considering who, or what, we're dealing with. So don't worry." Liam projected reassurance — and allure. "Have a little snack."
"Yes. Thank you." She appreciated his reassurance even more than his offer of food. "I would like that…" Hastily, she lifted her gaze from his chest and up to his mocking eyes. "The snack, I mean."
Make sure you join my mailing list so I can notify you when my new titles are released!
back to Top