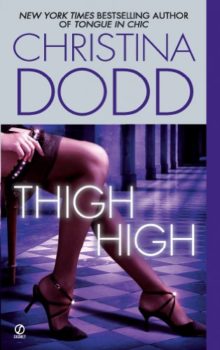 Fortune Hunters #3
March 4, 2008
Signet
ISBN-10: 0451223373
ISBN-13: 9780451223371
Available in: Paperback, Audio, e-Book
Thigh High
New York Times bestselling author Christina Dodd takes her fans to New Orleans, where two unlikely lovers clash, thanks to a pair of eccentric great-aunts, a series of zany robberies, and the madness of Mardi Gras…
Beautiful Nessa Dahl lives a sensible life—until, that is, Jeremiah MacNaught comes to town and enlists her help to investigate a string of bank robberies. Only Jeremiah realizes that beneath Nessa's no-nonsense exterior burns an outlaw spirit, and between them burns a passion far hotter than a sultry summer night. But when she discovers that the handsome investigator is undercover, lying to her about his very identity, and convinced she's involved with the crimes, he'll learn what thigh-high in trouble really means…
In 2005, I had a plane reservation for New Orleans. There I intended to do research for the book I was writing, a book filled with the eccentricities, the joy, the larceny, the pleasures and the madness of the Big Easy.
The flight was cancelled. On August 29, Hurricane Katrina made landfall, changing the face of the city forever.
This is my book, a little later than planned, but dedicated with affection and admiration to the resilient people of New Orleans and to the city itself.
Here's to the Big Easy. Long may she reign!
THIGH HIGH is the third in the Fortune Hunter series, following TROUBLE IN HIGH HEELS and TONGUE IN CHIC, a classic romantic suspense laced with family problems like "Arsenic and Old Lace" and the steamy sensuality of "The Big Easy."
The door of the bank opened. A man stepped just inside, a big man, blocking the intense New Orleans sunshine.
Nessa glanced up, then did a double-take. Wow.
She would have sworn she only mouthed the word, but Julia gave it voice. "Wow."
He was tall. Very tall. His broad shoulders tapered down to a narrow waist, and his hands were big. One gripped a bulging leather briefcase. He wore a dark suit, a white shirt and a red tie that should have fixed the eye, but didn't. It was his face that riveted her … his handsome, battered, broken face. He reminded Nessa of Russell Crowe in Gladiator, broken and rising like a phoenix from the ashes of his life.
He exemplified tragedy. He exuded power.
He looked at the small group of stunned tellers, his gaze moving from face to face, memorizing each feature, his face impassive … until he reached Nessa. There his gaze lingered, a slow interest kindling in his green eyes.
Nessa took a small, involuntary step back.
Then, with the fluid grace of an athlete, long strides and swinging arms, he continued on his way into his newly arranged office and shut the door behind him.
"I just came," Julia whispered.
"Sh!" Donna whispered and nudged her. "You horny old broad!"
"Oh, like you didn't," Julia said.
"Yeah, but I don't talk about it."
"Whew!" Mrs. Fasset's open mouth snapped shut, and she sagged against the countertop.
Carol, who was waiting on her, nodded. "That was spectacular. Miss Dahl, who do you suppose he is? The guy who's going to give you your raise … so to speak?"
Laughter swept the small group.
"I don't get it. What are you women talking about?" Mr. Broussard was a bank customer, and owned a bar, and he looked disgusted at the women's reaction. "He looked like the kind of guy it takes five of us to toss out of the bar, and we're lucky if he doesn't come roaring back for more."
"Yeah, that guy's not good-looking," their security guard agreed.
"He sure isn't," Julia said with enthusiasm. "He's more than good-looking."
Jeffrey let out a long sigh of pleasure. "He's a god."
"Well, he scared the hell out of me." Lisa stood with her hand pressed against her flat chest. "I wanted to tell Eric to take out his gun and shoot him."
Nessa smiled, a raw twist to her lips. "He's the insurance investigator who's going to solve what the police cannot — the mystery of the Mardi Gras robberies."
back to Top